Punjab Youth Development Board kickstarts awareness drive for state 
Punjabi youth would visit door to door in all parts of state and make people aware: Chairman Sukhwinder Singh Bindra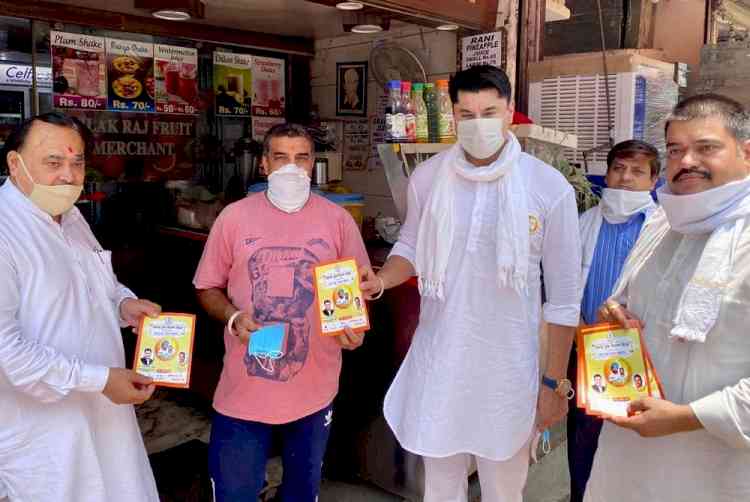 Ludhiana: Under the Mission Fateh of the Punjab government, the Punjab Youth Development Board Chairman Mr Sukhwinder Singh Bindra, along with his team today created awareness amongst the masses by visiting door to door in different parts of district Ludhiana.
He educated the masses regarding wearing mask, maintaining social distancing and washing hands properly and repeatedly.
  Launched under the aegis of Information and Public Relations Department of Punjab government, Mission Fateh campaign has been launched to make the people aware about the precautionary measures taken by the government and the health department to prevent the spread of Corona virus in all rural and urban areas of the state.
Mr Sukhwinder Singh Bindra said that under this public awareness campaign 'Mission Fateh' launched by the Punjab government to rid the state of Covid, ground activities are being organised in the district. He said that all members and district coordinators of the Punjab Youth Development Board would educate the masses about the ways to save themselves from Covid 19 in entire state. He said that this initiative have started from the district today.
He said that people above 65 years of age and children below 10 years, pregnant women and people suffering from other diseases were advised to stay indoors and should go out only in case of any emergency. He said that the youth of Punjab are playing an important role in weeding out COVID 19. He said that the number of positive cases in Punjab are much less as compared to other parts of the country. The reason behind this is that the citizens are supporting the Punjab government by following all its directions. He said that it is very necessary for the citizens to follow government directions in future as well.
Commissioner of Police Mr Rakesh Kumar Agrawal urged the residents to follow the directions issued by the Punjab government and health department if they want to keep everyone around them safe. He assured that all the personnel of Ludhiana Police have been on the forefront in the fight against Covid 19.
Additional Deputy Commissioner (General) Mr Amarjit Singh Bains said that the under the Mission Fateh of the Punjab government, different government departments are education the masses as per the schedule. He said that the Cooperation Department would carry out this awareness drive tomorrow, i.e. on July 5.
Mr Nitin Tandon, District Coordinator, Punjab Youth Development Board, was also present on the occasion along with other officials.