Punjab Red upsets Punjab XI in the 2nd final
PCA Trident Cup Challenger Triangular Series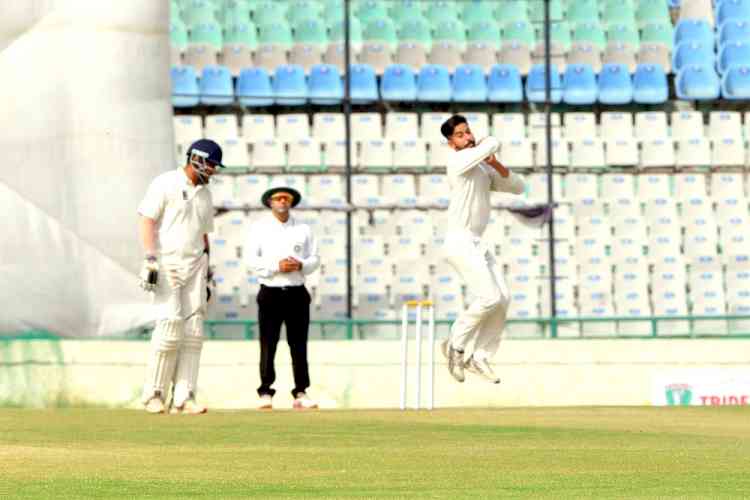 Winner for the PCA Trident Cup Challenger will now be decided from the 3rd final tomorrow
Mohali: In the second crucial final match of the ongoing PCA Trident Cup Challenger Triangular Series played today at I S Bindra Cricket Stadium, Mohali PCA Punjab XI took on Rest of Punjab Red.  In today's match PCA Punjab XI suffered their first defeat of the tournament losing by 28 runs. Both the teams have now won 1 match each in the best of three of finals and now the winner of the tournament will be decided from the 3rd final scheduled to be played tomorrow.
PCA Punjab XI won the toss today and invited PCA Rest of Punjab Red to bat first. While batting first PCA Rest of Punjab Red top order couldn't do much except Vishwa Pratap who scored a quick fire 31 runs of 27 balls (4 fours and 1 six) and by the 20th over 4 of their wickets were down with only 90 runs on the scoreboard. Later batsmen Salil Arora (77 runs in 100 balls with 6 fours and 1 six) and Kunwar Pathak ( 21 runs in 27 balls with 1 four and1 six) took control of the situation taking the team to a decent total of 258 runs all out in 48.1 over's. A late flourish of Ikjot Singh scoring 55 runs of 37 balls with 6 fours and 1 six added to the excitement of the batting innings. PCA Punjab XI bowlers Raman Malinga and Vinay Chaudhary captured 3 wickets each while Abhinav Sharma and Gurnour Brar took 2 wickets each.
In reply, PCA Punjab XI we're off to a poor start. Bowler Ikjot Singh of Rest of Punjab Red dealt the first blow in the 2nd over by removing Abhijeet caught behind by wicketkeeper Salil Arora and immediately after that in the 3rd over Jasanpreet was run out. Batsmen Prabhjot Singh was next to fall in the 6th over caught by Deepin Chitkara at Square leg of a delivery by Ikjot Singh when the teams total was 21 runs only. Next in, Ramandeep Singh played a good knock of 100 runs in 109 balls studded with 12 fours, ably supported by Abhinav Sharma who scored 66 runs in 54 balls with 6 fours and 2 sixes but still their partnership of 122 runs was not good enough to take their team to victory. Bowler Deepin Chitkara of Punjab Red in his second spell bowled well and claimed both the important wickets of Ramandeep Singh & Abhinav Sharma. Once Abhinav Sharma got out the next 4 wickets fell like ninepins and the entire team was out scoring 230 runs in 47.1 over's .
For Punjab Red bowlers Ikjot Singh (9-0-44-2), Prerit (10-0-39-2) Deepin Chitkara (10-0-42-2) bowled well and made their team win the game by 28 runs.
Punjab Red Ikjot Singh was declared the Man of the Match for his match winning performance with bat as well as ball.
Winner for the PCA Trident Cup Challenger will now be decided from the 3rd final match which will be played tomorrow 26th March at Mohali.
The key takeaways of match played today:
PCA Rest of Punjab Red: 258 /10 (48.1 over's)
Salil Arora 77, Ikjot Singh 55, Vishwa Pratap 31, Kuwar Pathak 21 runs
PCA Punjab XI (bowling)
Gurnoor Brar (7.1-0-43-2) , Raman Malinga (9-0-32-3), Abhinav Sharma (7-1-31-2) Vinay Chaudhary (10-0-38-3)
PCA Punjab XI:  230/10 ( 47.1 Overs)
Ramandeep 100, Abhinav Sharma 66
PCA Rest of Punjab Red (bowling)
Ikjot Singh (9-0-44-2), Prerit (10-0-39-2) Deepin Chitkara (10-0-42-2) Sumit Sharma (9.1-0-47-2)