Punjab Pradesh Beopar Mandal staged protest against state government
Protested for not implementing one-time-policy for settlement of VAT cases (2012-16)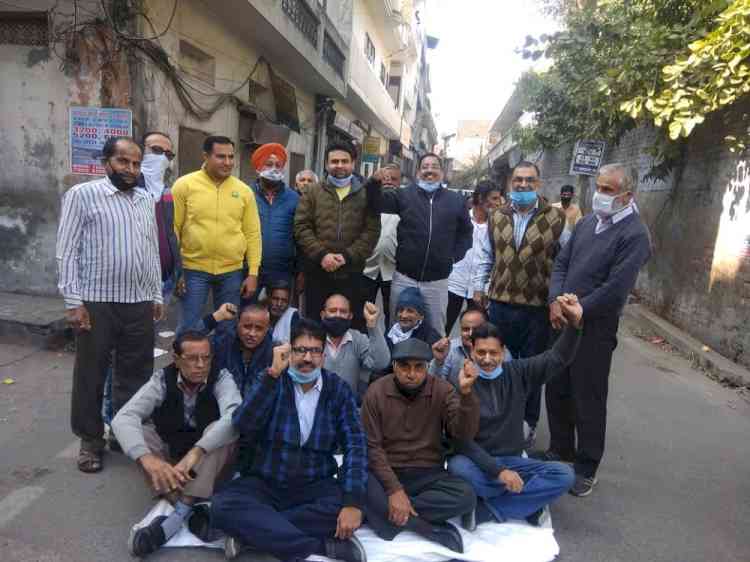 Ludhiana, December 10: Punjab Pradesh Beopar Mandal (PPBM) staged a protest against the state government for not implementing one-time-policy for the settlement of VAT cases (2012-16) about which the Amarinder government had made an announcement. 
The protest was held under the leadership of the PPBM state general secretary Sunil Mehra and other leaders including Parveen Sharma, Rakesh Vohra and Ramesh Mahajan in Bajwa Nagar. Addressing the protestors, Sunil Mehra said that one month had gone when the announcement was made but nothing had come on the grounds actually. 
The PPBM state secretary Mohinder Aggarwal said that traders of the state had suffered a huge loss of about Rs.10 lakh crores due to pandemic and farmers protest because of interruption of transportation in the recent past.  On the other hand, the state government was bent upon harassing the traders by issuing unwanted VAT notices to traders. He warned that traders would be compelled to take stern actions if the sales tax department did not change its attitude of functioning.
Ramesh Mahajan, Parveen Sharma also addressed the gathering and regretted that the Congress MLAs were silent on the traders' issues. As such, the Congress was proving failed in watching interests of traders, they added. They revealed that a traders' sammelan was being organised in Amritsar on December 13 to discuss about the traders issue. The proposed sammelan would be held under the presidentship of Pyara Lal Seth. It was being held with the support of 26 units of the PPBM, they revealed.  
Krishan Gopal, Naresh Kumar, Krishan Lal, Mohinderpal, Sunil Malhotra, Ankur Chatly, Raju Sachdeva and Vijay Kapoor were among those present on the occasion.