Punjab Pradesh Beopar Mandal holds special meeting
Oppose issuance of notices to the VAT assesses and imposition of CLU charges by MC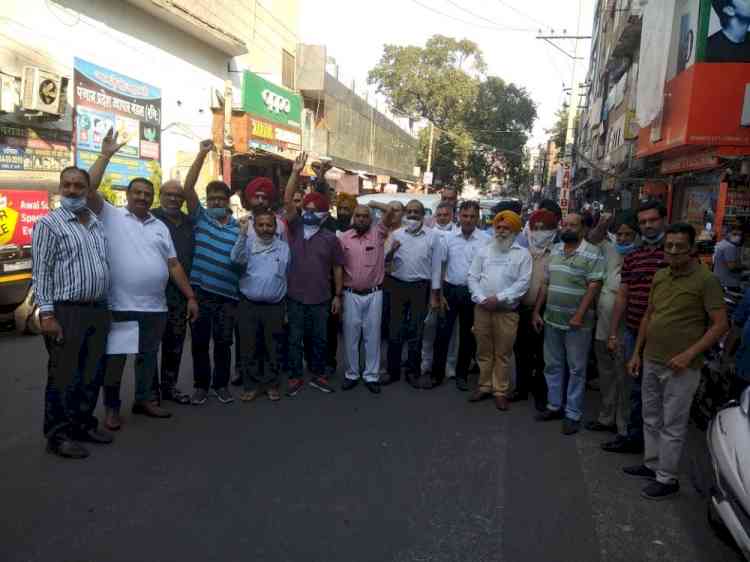 Ludhiana, October 17: A special meeting of Punjab Pradesh Beopar Mandal (PPBM) held in the mandal's office at Mata Rani Road here today, to discuss the situation arising after issuance of notices to the VAT assesses. These notices have served to around 70,000 traders across Punjab by ST Department. Of these traders, about 23,000 traders are from Ludhiana district.
The meeting was held under the leadership of the mandal's state general secretary Sunil Mehra, state secretary Mohinder Aggarwal and district president Arvinder Singh Makkar. The mandal leaders said they strongly oppose the issuance of these notices and added the state government would have to pay heavily if these notices were not taken back.

They pointed out that traders of Punjab have already suffered a huge loss of about Rs.85,000 crore due to the pandemic situation during about last six month. And now, these notices have been served, which was a great injustice to traders. They said traders were already facing financial crunch, resulting to which they were unable to meet their recurring expenses.

They also condemned the imposition of CLU charges by municipal corporation in the areas including Ghumar Mandi, Model Town and Chaura Bazar in Ludhiana. They regretted that notices in this regard were being issued, resulting to which traders were being harassed a lot. 

They categorically stated that if the state government failed to take a decision with regard to VAT notices and CLU charges then the mandal would be constrained to hold demonstrations and protests under which MPs and MLAs would also be gheraoed. 
Among others, Banwari Harjai, Pawan Batra, Jaswant Singh Virdi, Munish Ahuja, Rakesh Vohra, Deputy Kapoor, Pawan Malhotra, Ramesh Kumar, Rakesh Dhawan, Ramesh Mahajan, Jagdish Malhotra, Vijay Chopra, Jaswinder Singh and others were present.