14,227 samples tested negative in Ferozepur and 122 patients recovered, says DC
Solicits people's support in the ongoing battle against the coronavirus pandemic besides appealing them to report the mass gathering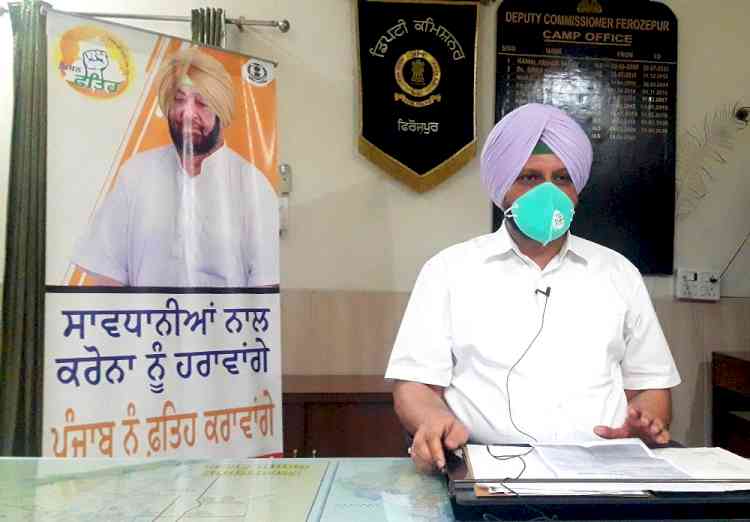 Deputy Commissioner Ferozepur Mr. Gurpal Singh Chahal.


Ferozepur: To sensitize the people against the ongoing battle against the novel Coronavirus Pandemic, Deputy Commissioner Ferozepur Mr. Gurpal Singh Chahal on Wednesday evening addressed the Ferozepurians through a Facebook live session. 
The Deputy Commissioner during this live address shared the latest situation of Ferozepur regarding the Covid-19 pandemic and reiterated the commitment to win this war as no stone was being left unturned by the state government to contain the spread of the virus. 
 
The Deputy Commissioner said that so far 15,359 samples were collected for throat swab tests out of which 14,227 samples have been tested negative. He added that a total of 237 persons have been reported positive and out of which 122 patients have been cured and discharged whereas 110 patients were undergoing treatment at various government facilities. 
 
He solicited people's support in the ongoing war against this pandemic and become eyes and ears of the district administration by informing the authorities of any mass gathering in the locality. The deputy commissioner said that to keep this disease at bay various restrictions were imposed against any kind of crowd building and it was over collective responsibility to adhere to these precautions. 
He further called upon people to inform the authorities if anybody found violating these restrictions in the larger public interest besides seeking cooperation in following norms like social distancing, hand washing and, masking.  The Deputy Commissioner said that only by adhering by these norms, we can check the further spread and make Ferozepur a Corona virus-free district.