Punjab Govt organises state level function on 205th Parkash Purb of Satguru Ram Singh Ji at Bhaini Sahib 
Life and philosophy of Satguru Ram Singh Ji became very basis of bringing social reforms in society: Bharat Bhushan Ashu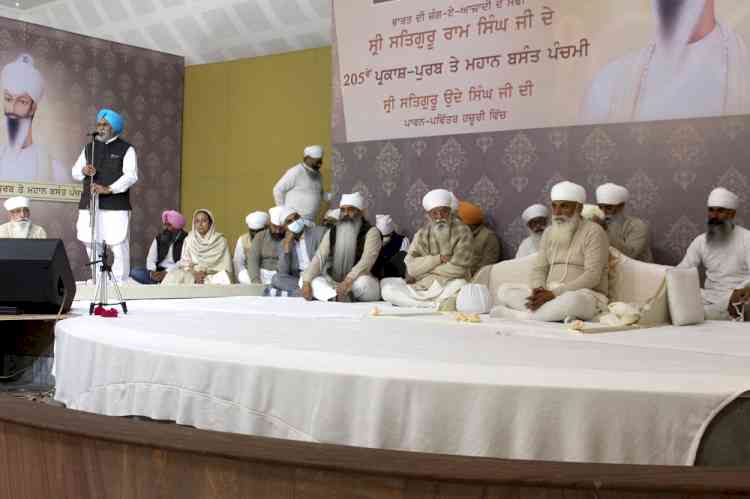 Bhaini Sahib (Ludhiana): Punjab Food, Civil Supplies & Consumer Affairs Minister Mr Bharat Bhushan Ashu today said that Satguru Ram Singh Ji, the founder of Namdhari Sect, had contributed for the freedom of the country and his life and philosophy also played an important role in bringing reforms in the society.
This was stated by Mr. Bharat Bhushan Ashu while addressing a gathering in a state level function at Bhaini Sahib held on the 205th Parkash Purb of Satguru Ram Singh Ji today.
While addressing the gathering, Mr Bharat Bhushan Ashu said that Satguru Ram Singh Ji had used non-cooperation as the political weapon against the British Rule successfully. He told that non-cooperation movement started by Satguru Ram Singh Ji was also adopted by other eminent freedom fighters like Mahatma Gandhi.
The cabinet minister told that the sacrifices made by Kuka martyrs under the leadership of Satguru Ram Singh Ji would continue to inspire the people and would help the masses to contribute for the society's development. He further told that a real tribute to Satguru Ram Singh Ji would be to follow the path shown by him and appealed the people to emulate his basic ideology to bring transformation in the society.
On behalf of the Punjab government, Mr Bharat Bhushan Ashu also announced a grant of Rs 11 lakh on the occasion.
He informed the gathering that Capt Amarinder Singh personally wanted to come here to pay his respects to Satguru Ram Singh Ji but he could not attend the function due to some compelling circumstances. He claimed that Captain Amarinder, however, assured that State Government would make all our efforts to fulfil the demands.
He said that Namdari sect has always promoted agriculture and sports. He also thanked Satguru Uday Singh for leading the task force for Budha Nullah Rejuvenation Project.
Prominent among those present on the occasion included former cabinet minister and District Planning Board chairman Mr Malkit Singh Dakha, Deputy Commissioner Mr Varinder Kumar Sharma, ADC (D) Mr Sandeep Kumar, senior Congress leader Mrs Satwinder Kaur Bitti, SDM Dr Baljinder Singh Dhillon, Mr HS Hanspal, besides several others.