Punjab Govt committed for promoting sports culture in state: Kuljit Singh Nagra
Attends annual athletic meet of SCD Govt College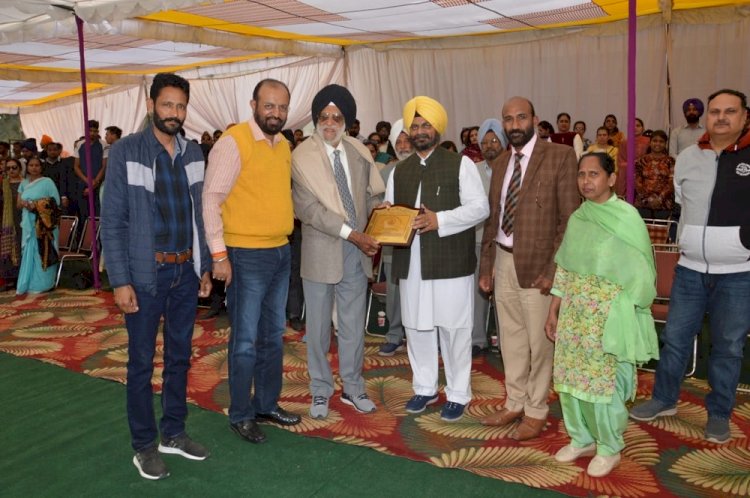 Ludhiana: Mr Kuljit Singh Nagra, Advisor to Chief Minister Punjab, today said that the Capt Amarinder Singh led Punjab government is committed for promoting sports culture in the state. He said this while addressing the students on the concluding day of Annual Sports Meet of SCD Government College, here today.
    On the second day of the 100th Annual Athletic Meet of SCD Government College, Ludhiana, different sporting events held were 400 mtrs, 200 mtrs, 1500 mtrs, 4800 mtrs Cycling and the finals of the 100 mtrs, Long Jump, Javelin throw, Discus throw. Races like Chatti race, female staff race, staff race, class IV employees race,  Hani chuk race ( pick your partner and run race) musical chair elicited special interest and cheering from the spectators.
    Mr Kuljit Singh Nagra, Advisor to the C M, Pb and an alumnus of the college was the chief guest, while Mrs Mamra Ashu, Mr Raman Balasubramaniam, Chairman Ludhiana Improvement Trust, Mr Jagdev Singh Olympian and many eminent former sports persons, retired teachers of the college, coaches and other illustrious personalities graced the event and  motivated the students by their presence.
    The concluding March Past to a sombre tune, led by the international and national level players, NSS students & NCC cadets of Army and Air Wings and the participants seemed to signify a sense of sadness at the games being over.
    College Principal Dr Dharam Singh Sandhu said that Mr Kuljit Singh Nagra was a student here in 1984 and became active in politics from his University days and also shared that Mr Nagra had once expressed his desire that more and more students should become interested and involved in politics if we want the state of affairs to improve. 
    The Head of the Physical Education Department, Prof Harvinder Kaur presented the Annual sports report. She said that the Athletics team of the college comprising Gurkomal Singh, Rahul Gautam, Kanwardeep Singh and Presanjit won gold in 400 metres relay race in Inter college Competition. Similarly Mukesh Kumar, Tushar,  Kanwardeep Singh and Presenjit won Gold in 100 meters relay race. The Basketball team of the college won bronze medal in inter college competition and Gold in Punjab State Basketball championship. The college Volleyball team  comprising Ankush, Abhishek, Jaskaran Singh and Rajanpreet represented Punjab University and in inter college competition won bronze medal. Volleyball players Gurpreet Singh, Abhishek, Michael, Rajanpreet, Jaskaran Singh, Mehakdeep Singh and Princepal participated in Youth National Volleyball championship. Deepak Sharma, Sunpreet Singh and Ankush won gold in under 25 Punjab State Games.College Cricket team participated in Inter College competition and Nehal Wadhera (B.A1) played in Kooch Bihar Trophy .Mitaksh Gandhi won Silver medal in Punjab State Men's doubles Badminton championship.The college Handball team won bronze in inter college competition Pardeep,Sahil Sharma, Sonu and Rajanvir Singh won gold medal. Rahul and Ashok Kumar won bronze in PU inter college  Taekwondo Competition. Rahul won bronze in Vushu also.The college Kho Kho team comprising Narinder, Sham Kumar,Govind Kumar,Sham,Anil Kumar and Jasveer Singh won Gold. Jugadveer Singh Gerewal participated in inter university Roller Skating Competition.The college Chess team won bronze medal while Kunal  won 1st position in 18th Delhi international Grandmaster competition. Prof.Harvinder thanked the principal Dr.Sandhu for his guidance and support because of which the college has won so many  accolades in so many games. It goes to his credit that the players of the college are making their mark in national and international arenas.This 100th Annual Athletic Meet of the college is a success due to combined efforts of all the students., teachers and especially class IV employees who play a major role in maintaining the different sports grounds of college which occupy places of pride in the campus. She particularly thanked Prof Kulwant Singh and Prof. Amardeep for working round the clock for this function. She finally thanked the media persons for giving wide coverage of the Meet.
    Mr. Raman Balasubramaniam  presented a famous revolutionary poem of Sahir Ludhianvi in which he champions the cause of the suffering multitudes.  Education is the great leveller, hence education should be subsidised and the Youth should be channelled in the right direction. 
    Mr Kuljit Singh Nagra shared that despite hailing from a humble family, sports and fitness was ingrained in him right from his early childhood. He reminisced happily about the compulsory training sessions in the college during his student days. At that time students were self motivated and never allowed the presence of drugs. He emphasised the importance of discouraging drugs. Student Unions played a major role in this during his time. He also expressed his desire to revive hockey in the college since he had been a hockey player here and SCD Government College used to be known by its hockey team. He felt very nostalgic about his college days. 
    Mr Jagdev Singh Olympian, Prof Gurdeep Singh (Physical Education dept), Madhav Sand, an old student and acclaimed Swimmer who won 65 Gold medals and many awards and honours in his swimming career and others were honoured and mementos were presented to them. It was followed by the Prize Distribution  ceremonial lowering of the Sports Flag and the National Anthem.
RESULTS:
Best Athlete (Boys) morning college 
Manpreet Singh(BA 3rd yr)
Best Athlete  (Girls) morning college 
Sarita(M.A Eco)

Best Athlete Evening college
Arun (B.A 3rd yr)
Discus throw Boys 
Morning College
1.Mehakdeep (B.A 1st yr )
2. Yuvraj(B.com 2 nd yr)
3. Attar Singh (B.CA 3rd yr)
400 mtrs Boys Race  Morning College 
1.Manpreet Singh (B.A 3rd yr)
2. Tushar (B.A 2nd yr)
3. Krishan Raj(B.A 2nd yr)
400 mtrs Boys Race Evening College 
1. Amritpal (B.A 1st yr)
2. Arun(B.A 3rd yr)
3. Amit(B.A 1st yr)
High Jump Morning 
1.Ramandeep (B.A 1st yr)
2. kuljeet (B.A 3rd yr)
3. Ashish(B.A 3rd yr)
Short put Boys Morning college 
1. Rajesh (M.A eco)
2.Manpreet Singh (B.A 3rd yr)
3.Gagan(BBA 2nd yr)
Long Jump Boys Morning 
1.Harshjot (B.Com 2nd yr)
2. Kuwardeep(B.A 2nd yr)
3. Kuljeet (B.A 3rd yr)
200 mtr Girls Race Morning
1.Ashu (B.Sc 1st yr)
2. Namanpreet (B.sc 2nd yr)
3. Sarita (M.A eco)
200 mtr Boys Race Morning 
1.Manpreet Singh (B.A 3rd yr)
2. Tushar (B.A 2nd yr)
3. Gursharan(B.com 1st yr)
1500 mtr Boys Race Morning 
1.Manpreet Singh (BA3rd yr)
2.Krishana Raj (BA 2nd yr)
3.Gourav Dixit (B.Com 2nd yr)
4800 mtr Cycle Race Morning  
1.Puneet(B.sc3)
2.Krishan Raj (BA2)
3.Akash (B.com3)
4800 mtr Cycle Race Boys evening
1.Arun (BA3)
2.Amit Dogra (BA1)
3.Sagar(BA1)
4th Class Employee Race
1Teetu
2.Akash
3.Surinderpal Singh

100 mtr Boys Race morning college 
1.Tushar(BA2nd yr)
2.Harshjot(B.Com 2nd yr)
3.kuwardeep(BA 2nd yr)
100 mtr Race Boys Race Evening College 
1.Arun (B.A 3rd yr)
2.Tarunpreet(B.A 1st yr)
3.Amritpal(B.A 1st yr)
Chatti Race Girls
1.Jassica(B.Sc 2nd yr)
2.Menka Singh (B.sc 2nd yr)
3.poonam (B.sc 3rd yr)
3 Leg Race boys Morning College 
1.Mohd.Hisham(B.Sc 1st yr) ,Shubham (M.sc (phy))
2.Ravi( B.A 2nd yr) ,Gagan Jolly (BBA 2nd yr)
3.Harsimran (B.Sc 2),Aniket Singh (B.sc 2)
(February 27, 2020)