Punjab Governor visits Khatkar Kalan, pays tribute to Shaheed Bhagat Singh
Exhorts people to follow footsteps of martyrs for prosperous Punjab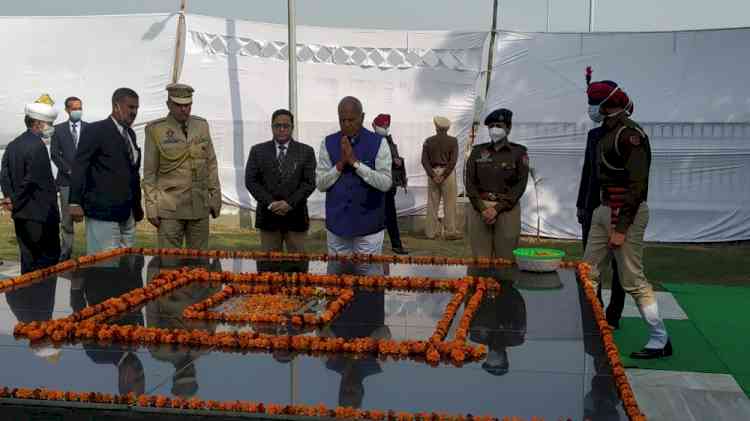 Nawanshahr, November 30, 2021: Punjab Governor Banwari Lal Purohit on Tuesday paid rich tributes to legendary Shaheed Bhagat Singh at his native village Khatkar Kalan.
 
Accompanied by Deputy Commissioner Vishesh Sarangal, Senior Superintendent of Police (SSP) Kanwardeep Kaur, Governor also paid homage to martyr's father Kishan Singh at his samadhi at Shaheed-E-Azam Bhagat Singh Museum and Memorial.
 
While taking round of the Museum, Governor visited various galleries in the museum  and said that we are indebted to the sacrifice and martyrdom of the greatest icon of country who laid down his life at the age of 23.
 
He said that the life and philosophy of Shaheed Bhagat Singh and other martyrs would always remain a source of inspiration for the people.
 
He called upon the people to follow the footsteps of the martyrs of the country who had made supreme sacrifices for freedom of country. He also asked the people to uphold ideals and values of the Indian Constitution and create an India of martyrs' dreams.
 
The Governor said that the visit at the museum has enlightened him as several unknown certain facts about Shaheed Bhagat Singh's life had come to his notice. He said that all the articles were scientifically preserved in the museum.