Punjab government waives off Rs 1.56 crore debts of 347 beneficiaries of district Ludhiana: MLA Kuldeep Singh Vaid
Punjab Government committed for the welfare & development of all sections of society- Mohammad Gulab Vice Chairman Backfinco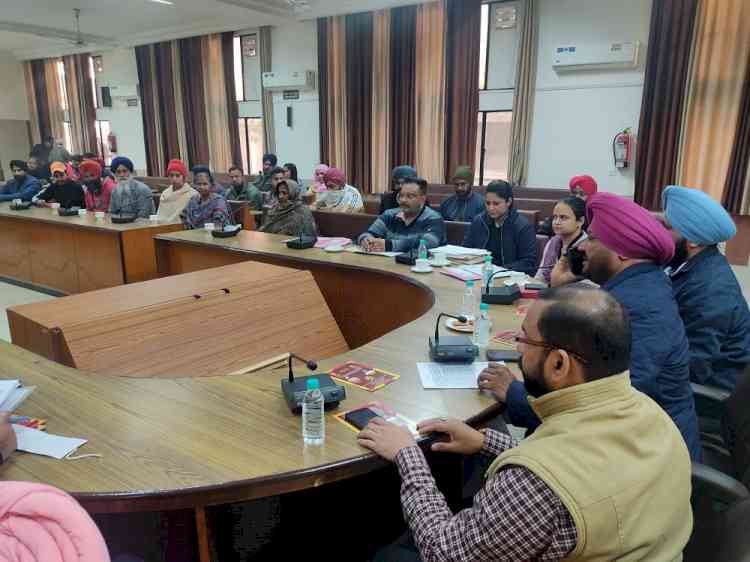 Ludhiana, December, 2021: Gill MLA Kuldeep Singh Vaid and Mohammad Gulab Vice Chairman Backfinco (Punjab Backward Classes Land Development and Finance Corporation) today informed that Charanjit Singh Channi led Punjab Government has waived off debt worth Rs 1.56 crore of 347 beneficiaries (Rs 50,000 each) of district Ludhiana. They also distributed debt waiver certificates to the beneficiaries today.
Additional Deputy Commissioner Khanna Sakatar Singh Bal was also present on the occasion.
MLA Kuldeep Singh Vaid informed that today, to start with, debt waiver certificates worth Rs 20 lakh were distributed to 40 beneficiaries of District Ludhiana.  
Speaking on the occasion Mr. Mohammad Gulab Vice Chairman Backfinco said that Punjab Government was committed for the welfare and development of all sections of the society and that is why, several welfare schemes have been started.  
He further said that Backfinco was established by the Punjab Government in the year 1976 with a view to uplift the economic standard of the backward classes and economically weaker sections of the state. This corporation provides low interest rate loans for self employment schemes.  In addition, loans are given to backward class and minority students to study in India and abroad.
He said that Punjab Government has provided loan waiver relief of Rs 20.98 crore to 4702 beneficiaries in the state. 
On this occasion the beneficiaries thanked Chief Minister Charanjit Singh Channi and Cabinet Minister Raj Kumar Verka for this debt relief of Rs 50,000 each as they were unable to repay the loan and their business was paralyzed due to the Covid pandemic.
On this occasion, Satwinder Singh, Enforcement Officer, Navpreet Kaur, Field Officer, Kulbir Singh, Field Supervisor and other dignitaries were present.