Punjab Government given generous grants for overall development of villages: Tewari
Says flood of development works in various villages of Nawanshahr constituency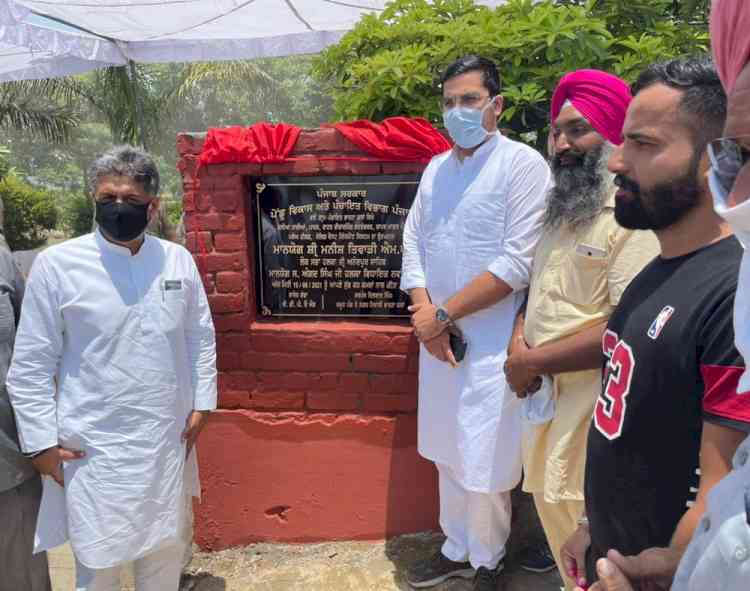 Nawanshahr: The Punjab Government under the leadership of Chief Minister Capt. Amarinder Singh has generously released grants for the overall development of the villages of the state.This was stated by Mr. Manish Tewari, Member Lok Sabha from Anandpur Sahib and former Union Minister in the presence of MLA Mr. Angad Singh, Chairman Punjab Large Industrial Development Board Mr. Pawan Dewan and other dignitaries on various development projects worth crores of rupees in the villages of Nawanshahr constituency . All the developmental work is dedicated to citizens of the constituency. He said that the villages of the state had never witnessed such development as during the tenure of the present government headed by Chief Minister Capt. Amarinder Singh. He said that crores of rupees had been released by the Punjab government for providing urban amenities to the villages and despite the Corona epidemic no stagnation was allowed in the development works.
Regarding the agitation being carried out by the farmers against the black laws of the Union Government, he said that the Punjab Government had stood by the farmers on this issue from the very beginning and would continue to do so. He said that these bills would be repealed immediately when the Congress government comes to power at the Center. He said that when the Central Government had brought the ordinance in this regard, he was the first to oppose it as the spokesperson of the Congress party and it was opposed in Parliament. In addition, he has written many articles in newspapers in favor of farmers. He said that it was unfortunate that some people were opposing us on this issue without any reason. He appealed to the farmer leaders to identify their supporters and opponents so that this movement could succeed.
Meanwhile, the people of village Bharta Kalan of the constituency undertook various development projects costing Rs. 55 lakhs.
He appealed to the Gram Panchayats of the villages in the constituency to ensure 100 per cent immunization in their villages to prevent Covid. He said that whichever village would achieve this target, the Punjab government would provide a special grant of Rs. 10 lakh for development works. MLA Angad Singh calls on MLA for all round development of Nawanshahr constituency. He thanked M.P. Manish Tewari for his tireless efforts. Mr. Chaman Singh Bhanmajara, Chairman, Market Committee, Nawanshahr, Mr. Joginder Singh Bhagaur, Mr. Jaideep Jangra, B.Sc. D. P. Apart from Rajesh Chadha, Lakhvir Singh, Giani Jagdish Singh, Dilbag Singh, Surinder Kaur, Joginder Singh, other personalities from the respective areas were present.