Punjab government doubles testing capacity in GMC Patiala and Amritsar to combating corona
Step taken amid the growing threat of covid-19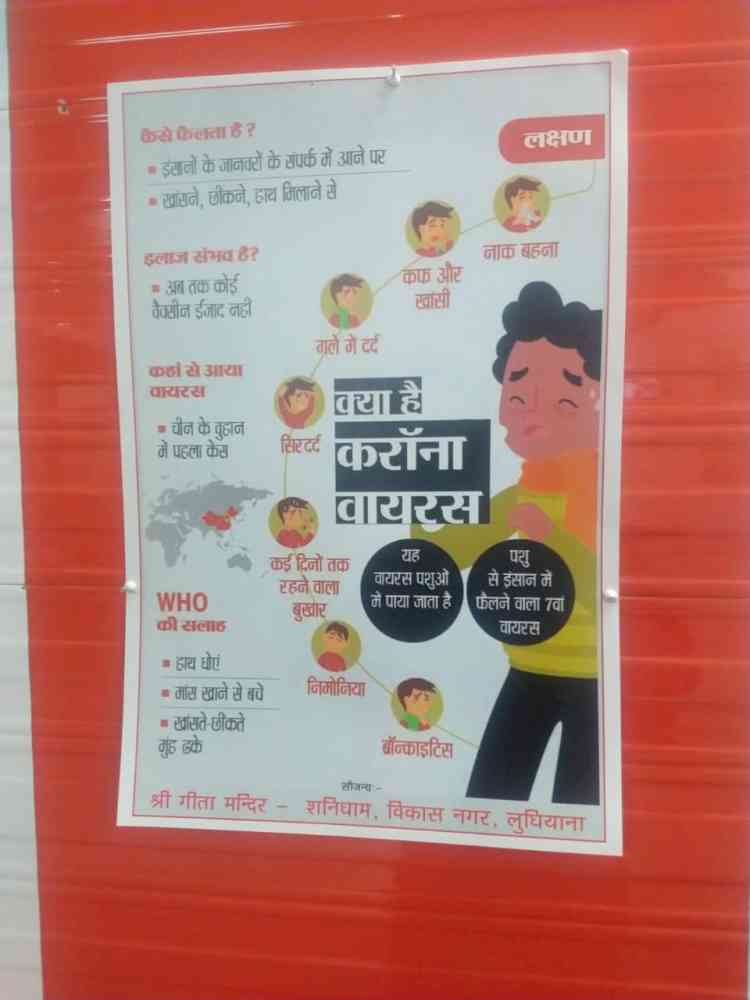 A symbolic photograph.
Chandigarh: Amid the growing threat of COVID-19, Punjab Government has pressed hard to combat this global pandemic and increased the testing capacity in double fold at Government Medical College Patiala and Amritsar.
Disclosing this here today, Mr. DK Tiwari, Principal Secretary, Medical Education and research said that government is combating with this threat on war footing and Additional Real-Time PCR machines have been installed at GMC Patiala & Amritsar to double the testing capacity, He said that shifts of staff to supplement testing facilities has been increased so that the results of the tests comes rapidly and the treatment process initiated immediately. He further disclosed that Bio-Safety Equipments have been shifted from IIT Ropar to GMC Patiala to further increases testing capacity.
Mr. Tiwari said that Medical Education and Research Department is working 24X7 and daily status report is being taken via video conferencing from different parts of the state so that concerted efforts should be focused on concerned areas.
The Principal Secretary said that Information and Consultation Desks have been set up at Medical Colleges for guiding public, apart from this Round the clock Staff facilitation counters have been put up for assisting doctors, nurses, paramedics on duty during odd hours. He said that there is no scarcity of any medical commodity and buffer stock of N95 masks, PPE kits, triple layer masks and other essentials has been provided to staff according to protocols. He divulged that trainings is being provided to staff daily for updating about the latest guidelines and findings of WHO regarding COVID-19. Daily updates on projections are being calculated by epidemiologists and accordingly supplies are being augmented.
However, Punjab Medical Education & Research Minister Mr. O.P. Soni appreciated the dedication and commitment of medical staff of the state. He said that this is the true service to save mankind in this difficult time.
ICUS TO BE SET UP IN ALL DISTRICT HOSPITALS OF PUNJAB: BALBIR SINGH SIDHU
Chandigarh: The Health Minister Punjab, Mr. Balbir Singh Sidhu said that state of art ICUs to be set up in  all district hospitals with latest technology machines.
Mr Sidhu who was on visit to review the situation of district Nawashahr and Hoshiarpur, said that state would soon get 50 new ventilators to meet the demand of district hospitals. Moreover, to handle these ICUs and Ventilators, anesthetic doctors have been put on training with a reputed health institutes. He said that District Hospital Nawashahr has already got the two Ventilators. For the time being to control the situation, we have adequate arrangements with nearby districts in case of any critical situation.
Expressing satisfaction  over the initiative taken by the District Administration and Health department to break the chain of transmission particularly in district SBS Nagar and Hoshiarpur, Health Minister said there is still need to check the chain of transmission so that it can timely break before further spreading through continuously follow up of contacts of confirmed cases. Civil Surgeon, Nawashahr informed the  Minister that health department is continuously working on war footing and will work till the end of fight against Covid-19.
The Health Minister while presiding over the meeting in Nawanshahar instructed all private hospitals across the Punjab to provide daily reports of patients suffering from flu.
He also reviewed the availability of medicines in the hospitals of both districts and assured the proper supply of medicines and requisite equipment for testing in this time of distress.
Mr Balbir Singh Sidhu also asked the district authorities of Nawashahr and Hoshiarpur to allow the functioning of the local flour Mills following the strict instructions of Punjab Government so as to maintain the regular supply of flour to the needy people.
Briefing the today's report of COVID-19 cases in the state, he said that fortunately there is no positive case today. Punjab has sent samples of 898 cases, out of which 596 tested negative, rest were awaited and 38 found positive till day. In SBS Nagar, there are 123 samples tested negative while 19 positive so far. 
The Health Minister along with Cabinet Minister Sundar Sham Arora also visited at the centre of Guru Ramdas Langar Sewa to express graditute to where food for around 1,20,000 persons are being made and distributed daily across the State
Review  meeting of Nawashahr was attended by MLAs Angad Singh Nawanshahr, Ch. Darshan Lal Mangupur, DC Vinay Bublani, SSP Alaka Meena, ADC Aditya Uppal, Civil Surgeon Dr. Rajinder Parshad Bhatia and other officers.
In Review meeting of Hoshiarpur, Cabinet Minister Mr. Sunder Sham Arora were also present along with DC Apneet Riyait, SSP Gaurav Garg, ADC(G) Harpreet Singh Sudan, ADC(D) Harbir Singh, Civil Sargon Dr. Jasvir Singh.