Punjab Government committed to the development of the state: Manish Tewari
Laid foundation stone of community center at village Badwali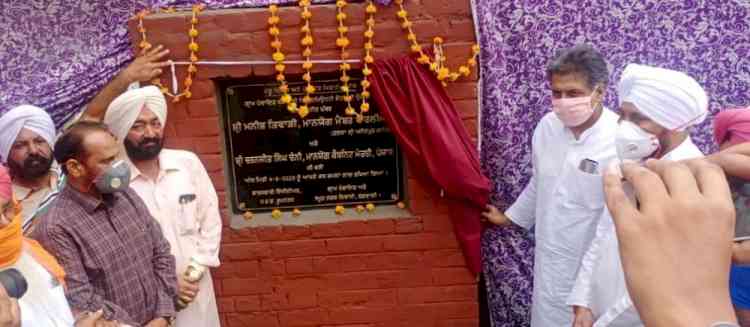 6 such community centers will be set up: Charanjit Singh Channi
Morinda/Rupnagar: MP from Sri Anandpur Sahib Manish Tewari today said that the Congress government of Punjab was committed to the development of the state. He said that despite the unfavorable economic situation during the Corona period and the delay in the payment of GST compensation to the states by the Center, it continues to work in the public interest. MP Tewari was talking with the media while laying the foundation stone of a community center to be constructed at a cost of Rs 70 lakh at village Badwali.

Meanwhile, MP Manish Tewari said that every activity in the world had come to a standstill in the last four months due to the corona virus, which has also affected the economies of the states and the Centre. In addition, the central government has withheld GST compensation from the states. Despite these adverse circumstances, the Punjab Government under the leadership of Chief Minister Capt. Amarinder Singh remained steadfast in its commitment to the development of the state. He said that the community centre to be constructed at a cost of about Rs. 70 lakhs. Apart from this, flyover work is also being done at Kharar and Banga, work of B.Sc. Agricultural College at Balowal Saunkhari will also start soon.

Cabinet Minister Charanjit Singh Channi disclosed that a total of six such community centers were being set up. With which people will not have to spend huge amount of money for weddings and other social events. The community center has a capacity of 500 people. While the construction of the railway under bridge would cost around Rs 17 crore, of which the railways have completed about 30 per cent of the work, the rest is being done by the state government.

After this M. P Tewari and Cabinet Minister Channi also visited the RUB under construction site. He also inaugurated the Morinda-Kainoor road being constructed at a cost of about Rs. 4 crore.

Among others, Vijay Kumar Tinku Chairman District Planning Board Mohali, Pawan Dewan Chairman Punjab Large Industrial Development Board, Bhag Singh MLA, Bant Singh Kalaran President Panchayat Union, Gurwinder Singh Kakrali Chairman Market Committee Morinda, Charanjit Channi Deputy Chairman , Sugar Mill Morinda Chairman Khushal Singh Datarpur, Block Congress President Balbir Singh Saheri, Morinda Municipal Council President Balwinder Singh Bajwa, Sarpanch Kesar Singh Badwali, Block Samiti Chairperson Baljit Kaur Samana, OSD Avtar Singh Sidhu, PA Jasveer Singh , Sarpanch Harpal Singh, Surinder Singh MC, Harjot Singh Dhangrali, Harpal Thaman City President Morinda, Hari Pal Former President Municipal Council Morinda were also present.