Punjab CM speaks on Mattewara industrial park issue
Says we are not taking an inch of forest land for mattewara industrial park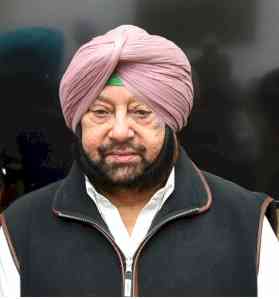 Capt Amarinder Singh, Chief Minister, Punjab.


Ludhiana: Categorically rejecting reports to the contrary, Punjab Chief Minister Captain Amarinder Singh on Saturday declared that not a single tree would be uprooted, nor would an inch of the forest land be taken by the government for the development of the industrial park at Mattewara, Ludhiana.
    There was no question of destroying the Mattewara forest, said the Chief Minister during his #AskCaptain Facebook Live session. Statements made by certain people suggesting that the forest would be destroyed "are simply not true," said Captain Amarinder, adding that the government has taken 955 acres of land of Animal Husbandry, Horticulture Department and Gram Panchayat. The acquired land does not include an inch of the 2300 acres of the Mattewara Forest, he declared.
    Recalling that with public support, his government had last year planted 75 lakh saplings to commemorate the 550th Prakash Purab of Sri Guru Nanak Dev ji, the Chief Minister said he himself was very keen to make Punjab more green and clean.
    Captain Amarinder also allayed apprehensions that the waste from the industrial park would be discharged into Satluj river and said a modern Common Effluent Treatment Plant would be set up as per the latest Government of India norms. The objective behind the planned industrial park is to create a vibrant industrial estate where people of Ludhiana and nearby areas can get good jobs, he added.
    In response to a question, the Chief Minister said anyone coming into the state through any border would be checked strictly. Ravinder Bagga from Ludhiana had expressed concern over the labourers being brought and dropped by trucks at the Shambhu border, from where they were entering the state on foot.
    Terming the rates for Covid treatment fixed for private hospitals as too high, Sewak Singh, Ludhiana, said it was beyond the common man's reach. The Chief Minister pointed out that the rates being charged by the private hospitals so far were exorbitant and that Rs 18000 per day was for critical patients only. The government hospitals had all the facilities, which they were providing at affordable costs, he added.
    The Chief Minister told Paramjit Kaur of Ludhiana that the government had decided to remove the passenger limit in buses as operations of private buses in particular had become unviable due to the steep hike in petroleum prices by the centre. He said buses could now operate on their full seating capacity but wearing of masks by passengers has to be strictly followed.