Punjab CM digitally launched 107 health and welfare centers to provide healthcare facilities to people at their doorsteps in rural areas
Move aimed at making Punjab as disease-free state: MLAs Rakesh Pandey and Surinder Dawar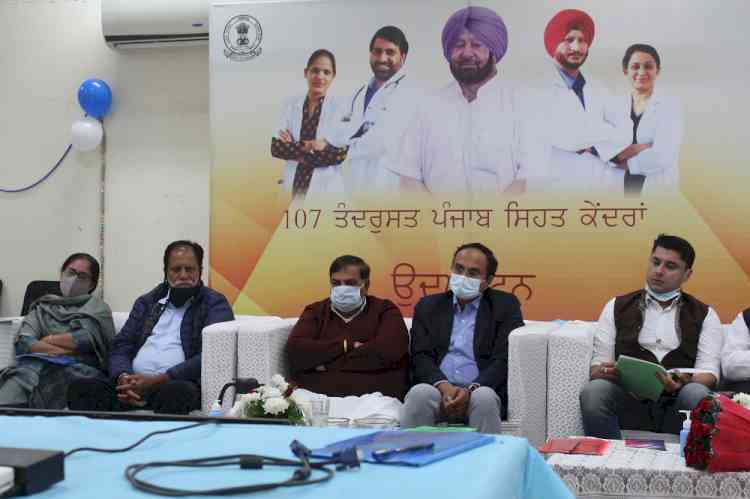 Ludhiana: In a bid to provide the best healthcare facilities to the patients at their doorsteps especially in rural areas, the Punjab Chief Minister Captain Amarinder on Saturday launched digitally 107 Health & Wellness Centres across the state.
Exuberating confidence over the robust healthcare network in the State, the Chief Minister, while interacting with the doctors through video conferencing, said that new Health & Wellness Centers would take Punjab's health infrastructure to a new level of efficacy amid the Covid pandemic. He said that these centers would go a long way in helping our government to expand its healthcare outreach to a larger community of our people across the state.

Lauding the stupendous services rendered by the doctors and paramedical staff to overcome the unprecedented challenge during Covid-19 pandemic, MLAs Mr Rakesh Pandey and Surinder Dawar said that these additional Health & Wellness Centers would be instrumental in making Punjab a disease-free State as the Punjab government was already committed to provide the best treatment and diagnostic services to the people so as to keep them healthy and fit.

Mayor Mr Balkar Singh Sandhu said that it is a matter of great satisfaction and pride that Punjab was ranked No.1 in operationalisation of Health and Wellness centers in the ranking of states released by Government of India in the month of August, 2020. Punjab has already achieved the target given by Government of India for year 2020-21 (142% achievement).
The Health & Wellness Centre team includes Community Health Officer (CHO), Multipurpose Workers (male and female) & ASHAs. During his address, the Chief Minister also mentioned that 1607 Community Health Officers have been appointed at these centres and 800 more would be appointed as CHOs in the State by January, 2021. He said as many as 2046 Health and Wellness Centres have been operationalised so far in the State.

MC Councillor Mrs Mamta Ashu, who attended the function on behalf of Cabinet Minister Mr Bharat Bhushan Ashu, stated that telemedicine services at Health and wellness centres has been started during March, 2020 to facilitate medical services for people in rural areas. She said that the State Government is converting all the sub centers of the state into Health & Wellness Centers in a phased manner to provide quality healthcare services to the patients especially in villages. She said that 27 medicines and 6 diagnostic tests are available free of cost at HWCs. 
These Health and Wellness Centres were opened on all the days from 8 am to 6 pm including holidays during Covid-19 pandemic lockdown.
Deputy Commissioner Mr Varinder Kumar Sharma highly appreciated the dedicated services offered by the Community Health Officers in providing healthcare services to the community including; sampling of Covid-19 suspected patients, regular visits of Covid-19 positive patients quarantined at home and contact tracing of Covid-19 positive patients. Wellness activities like Yoga and Health awareness sessions like trans-fat free Diwali, tobacco control etc. are also being undertaken at each center every week and nearly one lakh wellness sessions have been conducted so far in the state.
Prominent among those present on the occasion included Punjab Youth Development Board Chairman Mr Sukhwinder Singh Bindra, PSIDC Chairman Mr KK Bawa, DCC Ludhiana (Urban) President Mr Ashwani Sharma, Zila Parishad Chairman Mr Yadwinder Singh Jandiali, ADC (D) Mr Sandeep Kumar, Civil Surgeon Dr Rajesh Kumar Bagga, Senior Deputy Mayor Mr Sham Sunder Malhotra, Councillors Mr Gurdeep Singh Neetu, Mr Rakesh Parashar, besides several others.