Punjab Cabinet Minister distributes certificates to beneficiaries of various govt schemes at DBEE 
District level function organised at District Bureau of Employment and Enterprises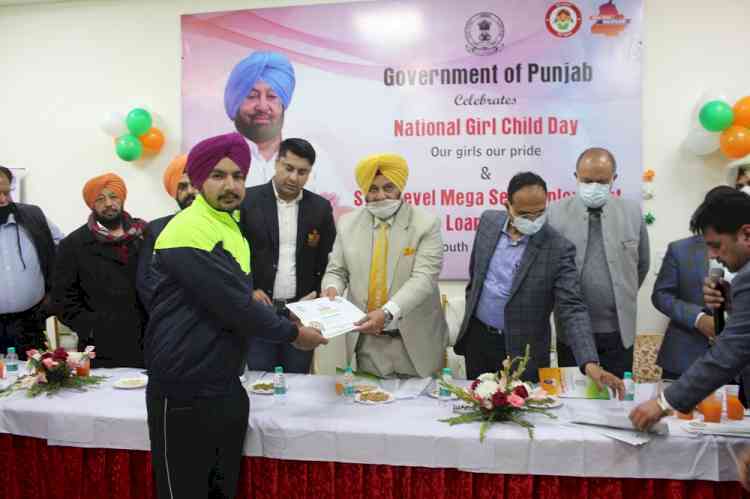 Ludhiana: Taking Punjab government's flagship 'Ghar Ghar Rozgar & Karobar Mission' forward, Cabinet Minister Sukhbinder Singh Sarkaria launched a Mega Self Employment Loan Mela in Ludhiana. The main function in this regard was presided over by Chief Minister Capt Amarinder Singh through video conferencing from Patiala.
EVENT WAS A CULMINATION TO THE SPECIAL LOAN MELAS
This event was a culmination to the special loan melas held across the state during October-December 2020, wherein 1.70 lakh youth were assisted in getting self-employment loans from various banks in Punjab.
SARKARIA HANDED OVER LOAN SANCTION CERTIFICATES
Mr Sarkaria handed over loan sanction certificates to 5 beneficiaries at a district-level function organised at District Bureau of Employment & Enterprises (DBEE) Ludhiana.
MORE THAN 15 LAKH YOUTH HAVE BEEN FACILITATED IN GETTING EMPLOYMENT
He informed that with the efforts of Punjab government, more than 15 lakh youth have been facilitated in getting employment in Private/Government sector or Self-Employment since the Capt Amarinder Singh led government took over the state's reins in March 2017, translating into 1100 youth benefitting every day from the Mission.
He further revealed that during this period, 8.8 Lakh youth had been facilitated for self-employment, while 5.69 Lakh youth had got jobs in the private sector and 58,258 in the Government sector in the state.
MAJOR INITIATIVE FOR THE EMPOWERMENT OF WOMEN
In a major initiative for the empowerment of women, the Punjab government also kick-started the National Girl Child Day celebrations with a clarion call to the society to come forward to protect the life and liberty of girls.
Underlining the need for creating grassroot-level awareness to further improve Punjab's Girl Child Sex Ratio, which had gone up from 890/1000 in 2013-14 to 920/1000 during 2019-20, the Cabinet Minister said Punjab government's decision to dedicate the month of January as 'Dheeyan Di Lohri' was a step in this direction.
MEASURES TAKEN BY PUNJAB GOVERNMENT TO NURTURE WOMEN POWER
Mr Sarkaria listed out various measures taken by the Punjab government to nurture women power, including 30% reservation for women in Government jobs, 50% reservation in Panchayat and Local Body elections, One Stop Centre Scheme in all Districts to support women and girls who are victims of violence or conflict, among others. He pointed out that the recently announced 50% concession in bus fare for women scheme would be launched shortly.
CABINET MINISTER ALSO FELICITATED FIVE BENEFICIARIES OF DIFFERENT SOCIAL SECURITY SCHEMES
The Cabinet Minister also felicitated five beneficiaries of different social security schemes on the occasion. On this occasion, sanction letters were also handed over to the beneficiaries of the Ration Depot allotment scheme.
PROMINENT AMONG THOSE PRESENT
Prominent among those present on the occasion included Mayor Mr Balkar Singh Sandhu, Punjab Youth Development Board chairman Mr Sukhwinder Singh Bindra, PMIDB Chairman Mr Amarjit Singh Tikka, PSIDC Chairman Mr KK Bawa, Ludhiana Improvement Trust Chairman Mr Raman Balasubramaniam, District Planning Board chairman Mr Malkit Singh Dakha, DCC Ludhiana Urban President Mr Ashwani Sharma, Deputy Commissioner Mr Varinder Kumar Sharma, ADC (D) Mr Sandeep Kumar, besides several others. /(January 25, 2021)