PUCA honours Gulzar Group of Institutes for its contribution in education sector
The appreciation award was received by Gurkirat Singh Executive Director of GGI for enriching the learning experience of a huge number of students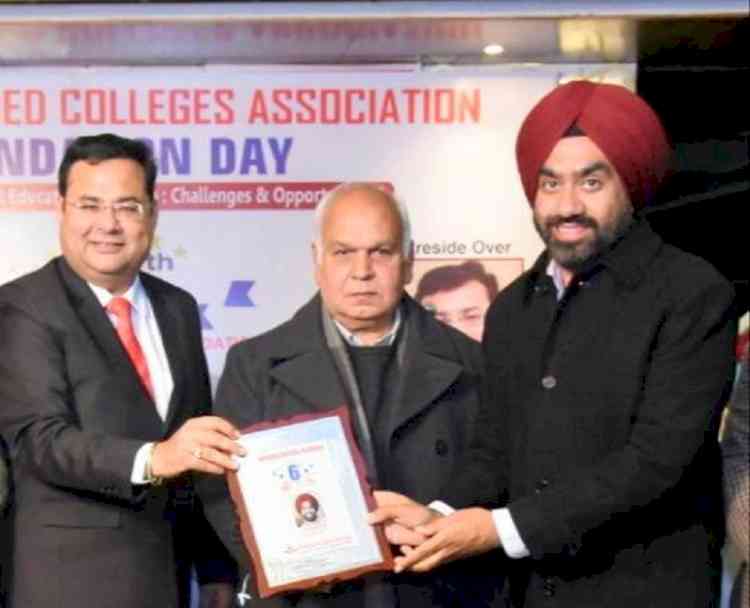 Gurkirat Singh from Gulzar Group getting award from Mohinder Singh KP during PUCA function.


Punjab Unaided Colleges Association (PUCA) Honoured GGI on its 6th Foundation Day for contribution in educational sector. Mohinder Singh KP, Chairman, Punjab State Board of Technical Education & Industrial Training was the Chief Guest at the moment. Dr. Anshu Kataria, President, PUCA & Chairman, Aryans Group of Colleges presided over the function. The appreciation award was received by Gurkirat Singh Executive Director of GGI for enriching the learning experience of a huge number of students.
 
Dr. Anshu Kataria Congratulated GGI for imparting knowledge through innovative and path breaking ways to learners to make significant contributions to the education society. On this occasion Amit Sharma, Senior Vice President, PUCA; S. Satnam S. Sandhu, Chief Patron, JAC & Jagjit Singh, President, JAC were also present on the dice. Gurkirat Singh Executive Director of GGI after receiving the award said that it is indeed inspirational that we have excelled as a prominent institution and we will have to continue putting in more and novel efforts to work in accordance to the emerging needs in education. 
The event catered zealous moments and enlightened the participants to steer their efforts for a better future. Many influential educationists Rashpal Singh Dhaliwal, CGC, Landran/Janjheri; Ashok Garg & Ashwani Garg, SVIET, Banur; Raghav Mahajan, Golden Group, Gurdaspur;Rajesh Garg, Bharat Group, Mansa; Rajiv Gulati, LGC, Ludhiana; Nalini Chopra, Kay Jay Group, Patiala; DJ Singh, Vidya Jyoti Group, Lalru; Dr. Sahil Mittal, Meera Group, Abohar; Vibhav Mittal, Dolphin Group, Chunni kalan were present & from Joint Association of Colleges (JAC), Manjit Singh, Patron, JAC & S. Rajinder Singh Dhanoa, Secretary, JAC were part of the event and shared their phenomenal thoughts and life experiences to guide the Educators in their future endeavours.