PU NSS volunteer for "Break The COVID Chain"
PU NSS Volunteer, Covid chain, Coronavirus,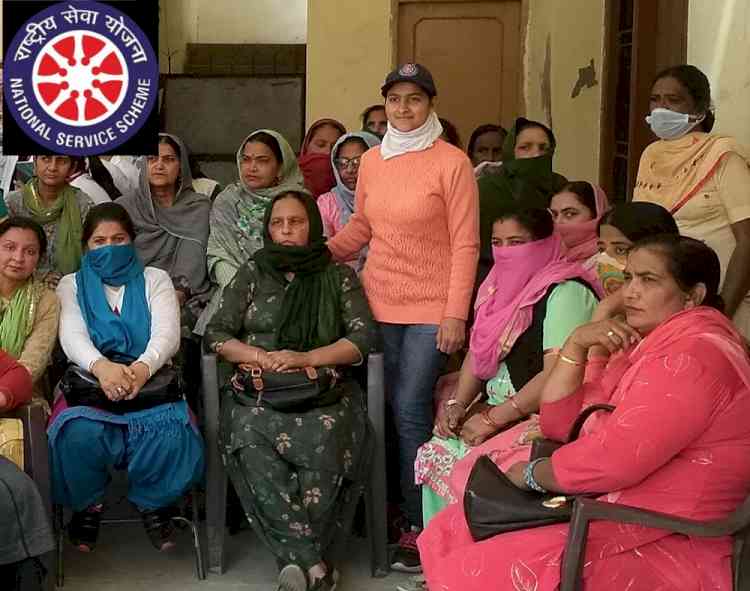 Centre for IAS and other Competitive Examinations, PU, extends last date for submission of applications form
Chandigarh: While Panjab University is on COVID break, Ritika Verma, NSS Volunteer from Department of Anthropology took the initiative to sensitize her village people for on going Coronavirus. Her 'COVID Mukhat Abhiyan' with the help of Health Center Staff in Mohali push forward the NSS moto NOT ME, BUT YOU at this crucial stage. She has been spreading the awareness on COVID since PU announced to close the on going classes to follow-up the administration notice. 
She has been telling people about the COVID symptoms like Cold, Cough, Fever converting into joint pain and uneasy to sustain and breathing problem for COVID. To control this epidemic she is suggesting to take preventive measures like frequent hand wash for at least 20seconds covering full hand, covering mouth in arms instead of hand while coughing and sneezing, use of sanitizer if water is not available, avoid to touch eyes, nose and mouth, distance themselves from social and mass gatherings as much as possible, specially for the children and old age people. She is constantly appealing people to follow the government guidelines and take part in "Janta Curfew" proposed by Prime Minister of India.
Meanwhile, in the wake of notifications issued by Government regarding spread of CVOID-19 in the country, the Centre for IAS and other Competitive Examinations, Panjab University, Chandigarh, has extended the last date for submission of applications form for the coaching of UGC-NET(Paper-I) classes, till 3rd April 2020 (upto 12:00 noon) and classes for the same will commence from 7th April 2020. Interested students can download the admission form online or get it from the office of the centre for IAS and other competitive examinations. For more detail contact office 0172-278156 or see the link: iasc.puchd.ac.in/show-noticeboard.php?nbid=4