PU launches E-Library Services
Rahul Agarwalla, owner of Knimbus also spoke about the features and scope of eLibrary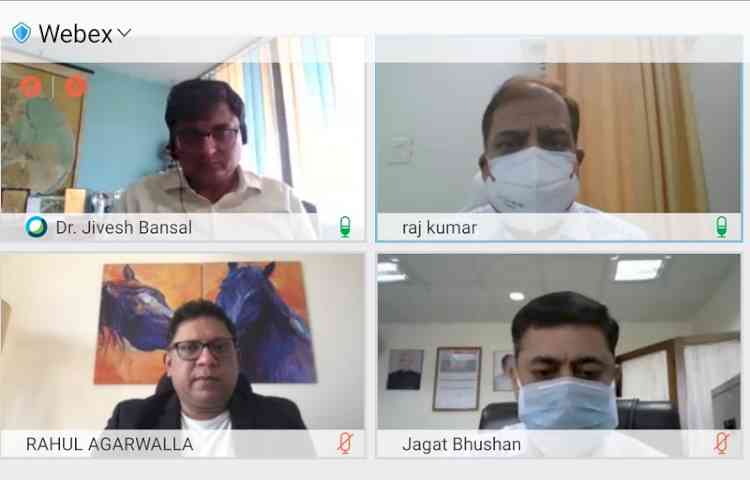 Chandigarh: In another milestone for Panjab University, Prof. Raj Kumar, Vice Chancellor, today launched e-Library services for the registered users of the University. PU VC in his address said that it is a momentous moment for PU to extend this facility to the faculty, researchers and students of PU to access around 15000 plus e-Journals, several thousand e-books, databases etc from their safe environments in the current pandemic situation.
Dr. Jivesh Bansal, University Librarian provided an overview of the PU e-Library and said that this facility will be provided to all the registered users of Panjab University at Chandigarh and all the Regional Centres along with the faculty of all the affiliated Colleges. He further informed that the PU e-Library is a rich content platform through which all the subscribed e-resources, eShodhSindhu resources, Web-OPAC, Institutional Content will be provided to all the registered users of the PU. The e-Library aggregates all the library collections, open Access resources, multimedia learning content and electronic document repositories all on one platform. This facility can be accessed on any device from anywhere. The platform will also provide a Mobile e-Library App (for both Android & iOS) which offers a multi-format, content delivery app for users to consume eBook collections, e-Course material, latest journal issues and multimedia learning content. Patrons can access the e-Library from Library Webpage as well through mobile app.
Mr. Rahul Agarwalla, owner of Knimbus also spoke about the features and scope of eLibrary.
Dr. Jagat Bhushan, Chairperson, e-Resources Committee & Controller of Examinations expressed his gratitude to Vice-Chancellor because of whose vision and able guidance, library was able to materialize this achievement. He also acknowledged the efforts of the entire team of PU library towards providing this facility to users.