PU faculty conducts session on career guidance and counseling
Education not only helps in personality development of the child but also plays vital role in 'character building'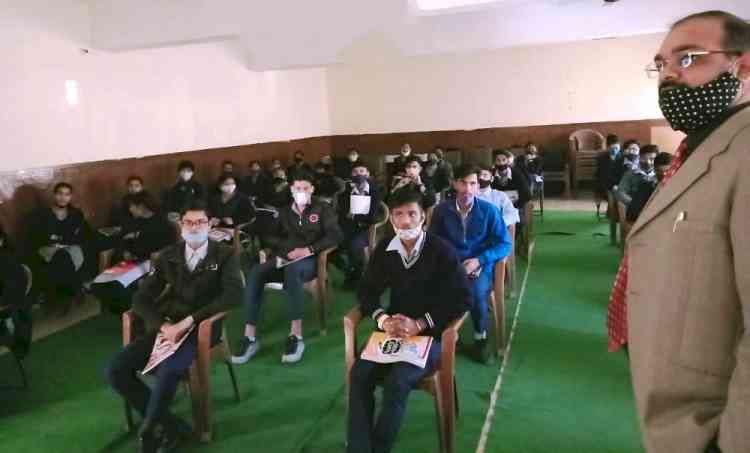 Chandigarh: Three interactive sessions on 'Career Guidance and Counselling' under the "Samagra Shiksha Chandigarh" were conducted by Dr. Bharat, Assistant Professor, University Institute of Legal Studies, Panjab University for the students of 11th (10+1) and 12th (10+2) classes at Government Senior Secondary School, Sector 45A, Chandigarh.
In his address, Dr. Bharat underlined that the ultimate goal of education is to inspire the next generation of learners to find their passions, hone their skills and help them to continue the quest for personal growth in all aspects of their lives besides making them an asset for the society, nation and world at large. He also emphasized that education not only helps in personality development of the child but also plays vital role in 'character building' which cannot be undermined at any cost.
Further, Dr. Bharat underlined the various career options available to the students in the higher education institutions in general and Panjab University in particular with special reference to traditional, professional courses and skill-oriented programs. He also said the Panjab University has consistently proved its mettle in the arena of higher education which is evident from the rankings conducted by various agencies. He also applauded the role of Chandigarh Region Innovation and Knowledge Cluster (CRIKC) and threw light on various scholarships schemes of the Government of India for the pursuit of higher education. There were three sessions for the students from the different streams, which were followed by question-answer session and quiz.
It is worth mentioning that the 'Samagra Shiksha' is an overarching programme for the school education sector extending from pre-school to class 12 and has the broader goal of improving school effectiveness measured in terms of equal opportunities for schooling and equitable learning outcomes. It subsumes the three Schemes of Sarva Shiksha Abhiyan (SSA), Rashtriya Madhyamik Shiksha Abhiyan (RMSA) and Teacher Education (TE).