PU Enactus team launches cloth-based sanitary napkins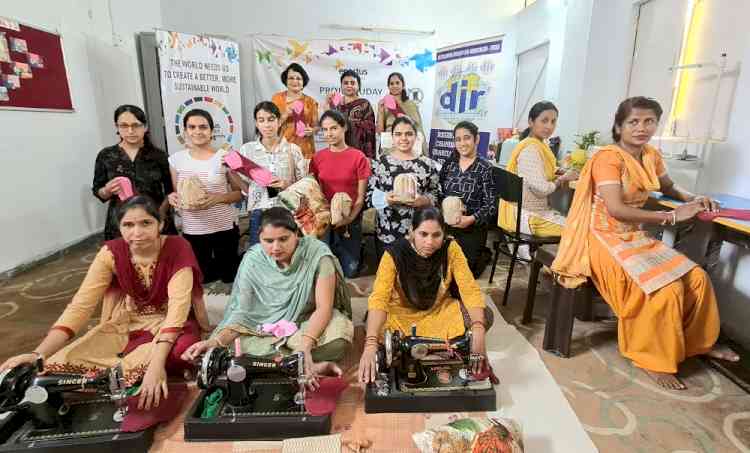 Chandigarh, September 21, 2021: Enactus team, Dr. S. S. Bhatnagar University Institute of Chemical Engineering & Technology (SSBUICET),  Panjab University in collaboration with Developing Indigenous Resources-India (DIR) and Versatile Group, Ludhiana launched reusable, cost-effective and eco-friendly cloth-based sanitary napkins under its Project Uday, at an event held today at Janata Colony, Nayagaon.
 
A team of more than  50 student members, dedicated towards a common goal of bringing "the best suitable business model" in order to shape a better society has come forward to raise concerns surrounding the challenges that affect the health and wellbeing of women and girls due to the lack of hygienic menstrual products. Upon in-depth research, the team found that menstrual hygiene practices were unsatisfactory among the rural women, often pushing them to the edge of being the most vulnerable to infections and health problems, averred Prof. Seema Kapoor, Faculty Advisor of Enactus team.
 
Thus, the team started working on reusable cloth-based sanitary napkins that could be an affordable and eco-friendly alternative to generic plastic based sanitary napkins available in the market.
 
The guest of honor for the event was Ms. Geetanjali Bakshi, Coordinator of CSR project Amodini of Versatile Group, who was instrumental in getting the sponsorship for 2 Usha automatic sewing machines and accessories worth Rs.55000/ for the community. Also the special fabric for sanitary napkins is being sponsored by Versatile group under its CSR project. 
 
The event saw participation from underprivileged ladies working under project Uday, Enactus students and DIR staff. 
 
In the presence of dignitaries, Ms. Bakshi distributed Sanitary Napkin kits, each comprising of 4 napkins in 1 potli to over 30 ladies of the  slums of Janta Colony, ensuring accessibility of safe and quality assured menstrual products. If compared with the standard cloth based sanitary napkins available in the global market, the product is approximately 70-80% cheaper than the ones conventionally available and is tested upon various paramete by NABL accredited labs. 
 
Dr. Asha Katoch, CEO of DIR, a non-profit charitable trust has been working relentlessly for the upliftment of slum dwellers for the past 17 years, with the objectives of promoting health, providing education and facilitating income generation in the slum community. She has been at the front in keeping up with the cause of building awareness among the rural population on menstruation. In addition to this, Dr. Asha has extended her trust and support through the provision of skill development and training for the community of ladies. 
 
Prof. Kapoor highlighted how pandemic has made things worse with restricted availability of hygienic sanitary products, increased poverty and disruption of essential services. She advocated for building community awareness and supporting female hygiene. Ms. Bakshi emphasized the importance of getting over the period stereotypes and ensure easy access to related supplies.
 
Accentuating the need of promoting reusable sanitary napkins, Akshit Kalra, President of Enactus team, Meesha, Vice president of Enactus team and other team members namely Yash, Nandini, Dea, Ravnoor, Sanya, Leeza and Abhinav participated and vocalized the cause of adopting menstrual hygiene practices.