PU CPC organises distribution of scholarships by Sarbat Da Bhala Charitable Trust
Sarbat da Bhala is a charitable trust was started by S.P. Singh Oberoi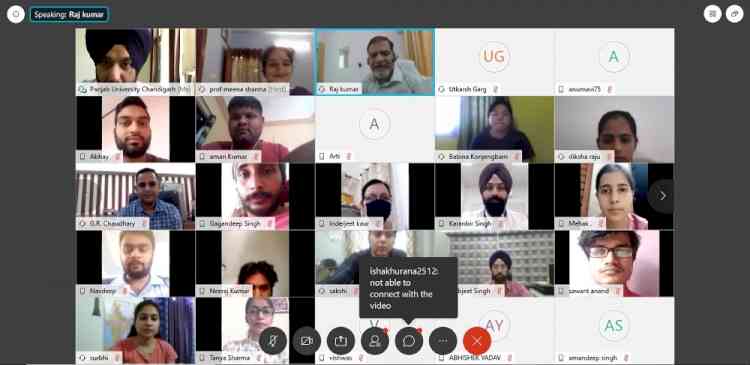 Chandigarh: Central Placement Cell(CPC), Panjab University, Chandigarh organised a function to distribute scholarships of Rs. 299,300/- to 34 students by the "Sarbat Da Bhala charitable trust.

Sarbat da Bhala is a charitable trust was started by Sh. S.P. Singh Oberoi. This philanthropic body is dedicated to the cause of extending economic benefits to the underprivileged and hitherto neglected sections of the society and these scholarships are being distributed every year since 2016. Dr. Amandeep Singh Marwaha enlightened about the various activities of the trust and about the event to the beneficiary students and participants.

Prof Meena Sharma, Director Central Placement Cell, welcomed all the members and briefly enlightened the students about the help provided by the trust in past and how helpful it has been to students looking at the current state of economyand thanked Dr S P Singh Oberoi for his philanthropic endeavours. Vice Chancellor, Prof Raj Kumar, expressed gratitude towards trust and highlighted the contribution of these philanthropists in the development of great education institutions like Nalanda and Takshila in the past too. He also told how these scholarships help collaterally in connecting various people involved in the process and asked Central Placement Cell to expand its scope and connect to more people.

Mrs. Inderjit Kaur, Director of the trust wished good luck to all the students and assured help to students while explaining the mission of the trust.
Prof Ganga Ram Chaudhary,  gave formal vote of thanks.