PSPCL conducts massive raid, now zero tolerance to power thefts, says A Venu Prasad
A massive raid at Dairy Complex in Haibowal, Ludhiana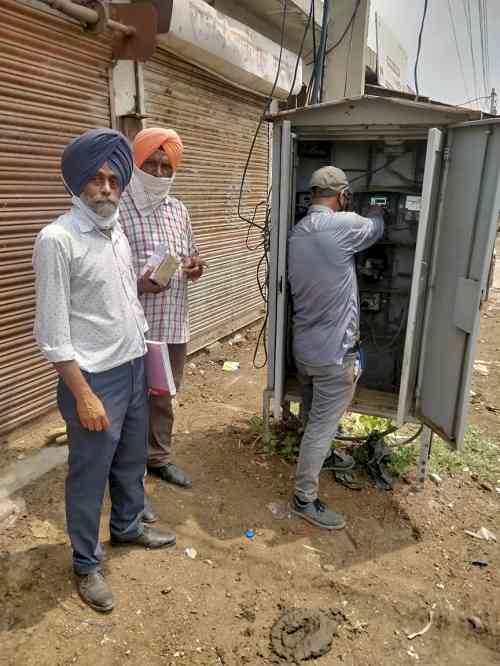 Ludhiana: To curb the menace of power thefts in the city, the officers of Punjab State Power Corporation Limited (PSPCL) conducted a massive raid at Dairy Complex in Haibowal, Ludhiana, on Tuesday and snapped as many as 20 'Kudi Connections' in the area.

The raid was conducted under the directions of A. Venu Prasad, IAS, CMD, PSPCL and under the observation of Sh. DPS Grewal, Director Distribution.

As many as 36 teams (16 Distribution XEN, 16 SDOs and 4 Enforcement Wing), with four members in a team, conducted the raid. In a day, the teams checked a total of 1227 connections and fined consumers a total of Rs. 40 lakh for power theft and misuse of meters. Of total connections checked, 20 cases of power theft were detected.

DPS Grewal informed that apart from checking 'Kundi Connections', the teams also checked the meters, to ensure that meters are working properly and there is no tampering with the meters. He added that display screens of as many as 44 meters were found dead or tampered and total 73 old meters, which were not functioning properly, were replaced on the spot and these were sent to ME Lab for testing.

A. Venu Prasad said that the PSPCL will continue to conduct the systemic raids in the near future to curb the menace of power thefts in the city and to ensure that residents are free from glitches of such unscrupulous practices. He appealed that consumers have to help PSPCL in controlling the menace of power theft.

He added that in case of any complaint regarding power supply consumers can get their complaints registered on our helpline number 1912. "If the line is busy, the consumers can SMS to 1912 and your complaint will get automatically registered and you will receive a reply from the office," he said.

DPS Grewal also conducted a surprise inspection at the Call Centre, located in Chaura Bazar, Ludhiana and said that soon 60 more call lines will be installed here at the centre. The centre will be operational for the public very soon.

Chief Engineer Varinder Pal Singh Saini who was also present at the spot ensured the uninterrupted power supply to the consumers and said that the staff will follow the directions of the management and will live up to their expectations.

Er. Sanjeev Prabhakar, Deputy Chief Engineer/ Operation, West Ludhiana; Er. Harjit Singh Gill, Deputy Chief Engineer, East Ludhiana; Er. Sarabjit Singh, SE Sub-urban Ludhiana and Er. Himmat Singh Dhillon SE Khanna were also present at the spot.