Professor Indu Pal Kaur, UIPS, Panjab University Invited on two National Forums
Professor Indu Pal Kaur, UIPS, Panjab University Invited on two National Forums to talk about Pharma Innovation & I.P.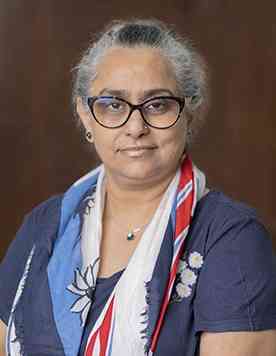 Chandigarh, March 31, 2023: Dr Indu Pal Kaur, Professor and Chairperson, University Institute of Pharmaceutical Sciences (UIPS), Panjab University was invited by the Office of the Controller General of Patents, Designs and Trademarks (o/o CGPDTM) under its National Intellectual Property Awareness Mission (NIPAM) to speak during "IP Manthan 4.0" on "Women in IP: Powering creativity, technology and entrepreneurship". This was organised in line with the theme of World IP Day 2023 as "Women and IP: Accelerating innovation and creativity".
She shared the platform with other key dignitaries and eminent speakers viz. Dr Unnat P. Pandit, CGPDTM; Kamlesh Pant, Chairman, NPPA; Dr N. Kalaiselvi, Secretary, DSIR & DG, CSIR; Sandhya Vasudevan, Former Managing Director, Deutsche Bank and Thomson Reuters; and Dr Lakshmikumaran, a renowned patent attorney graced the occasion.
Prof. Kaur represented as an academic entrepreneur with highest number of patents filed, granted and commercialized to her credit. She highlighted that women by nature are endowed to be artistic, innovative and creative and have a flair for ingenuity. Irrespective of gender, she felt that there is a need to emphasize the slogan 'Patent and Flourish versus Publish and Perish' among the scientific community. The unmet needs, gaps and opportunities for new research must be identified and decided based patent search in the domains coupled with the literature search. She urged one and all to step out of their 'comfort zones' and accept the newer challenges and draw on an inner strength and courage to file a patent application for their novel ideas and research, before giving in to the urge and compulsion to publish. Further she mentioned that the inventor should partner with an attorney to draft and defend their patent application. She also mentioned that filing patent application is the start and not end of the journey; commercialization should be considered the culminating point of any fruitful research. Existing policies and grants by the Government favour a strong hand holding between industry and the academia. She expressed that innovations should be simple and in keeping with the industry resource and infrastructure; and regulatory needs. She also mentioned that Panjab University was amongst the first Universities in the Country to have in place a Centre for Industry Institute Partnership Programme (CIIPP) since 1996. UIPS currently has 11 technology transfers and 8 products in the market coupled with almost 100 granted patents.
Prof Kaur was also among an invited panellist in 'The Post-Budget Webinar on Health and Medical Research' organised by the ministry of Health and Family Welfare and Department of Pharmaceuticals. Theme of the session was "Pharma innovation and Multi-disciplinary courses in medical devices" where Professor Kaur emphasised on need for industry-academia handshake and a step forward from 'talking to doing'. She felt that pharmaceutical researchers in academia have acquired expertise and skill set in their niche areas following several decades of hard work which must be reaped by the Industry. She also expressed that the Indian Pharma Industry needs to step up from generics to research based new products by investing in R&D or collaborating with academia. One key area where India can have an edge across the globe is nanophytopharmaceuticals, which involves intelligent formulation of natural molecules to address their stability, solubility, bioavailability and toxicity issues, if any, and realising clinically relevant doses for these molecules. She felt that trust building between academicians and industry can have a 'win-win' opportunities for both stakeholders. She ended with a note that along with the National Institutes, prestigious, high-performing State University Departments like UIPS, of a long standing, consistently claiming NIRF rank 2 or 3, should be considered for funding and establishment as Centres of Excellence, Innovation and Entrepreneurship.