Prof Chhabra shares her valuable views on international women's day 
Says, women have to confront many challenges in society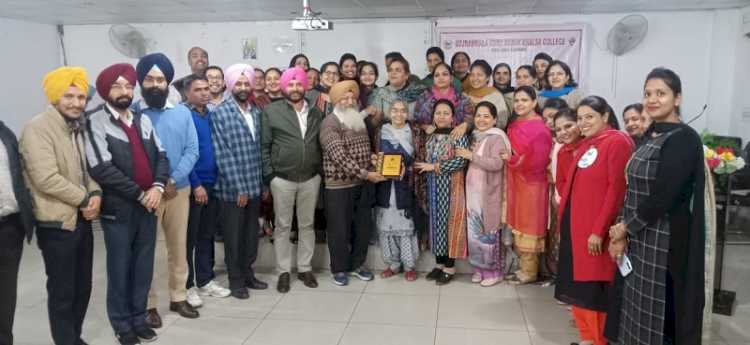 Ludhiana: Gujranwala Guru Nanak Khalsa College, Ludhiana, celebrated International Women's Day today. Prof Raminder Kaur Chhabra graced this event with her humble presence as the chief guest. 
Dr Arvinder Singh, college Principal offered a floral welcome to the chief guest. Refering to the bani of Guru Nanak, he said that the woman is a home to the society and the central point of a family. The female students of various classes participated in different cultural activities like, poem recitation, singing, dancing, debate, etc. The event also witnessed Mehndi and Poster Making competitions.
Prof Chhabra shared her valuable views on international women's day by saying that women have to confront many-a-challenges in the society. But the woman has been braving all the adverse circumstances and challenges, leaving her mark wherever she goes, be it economic, social, political, educational fields. She also mentioned that one must contribute in building a positive society so that all kind of negativity may be curbed. Prof Paramjit Singh, Vice-Principal of the college dedicated a song in his melodious voice. Prof Sharanjit Kaur (in-charge, Women Cell), Dr Rishu Jain and Dr Anupriya Jain also recited poems. Prof Jatinder Kaur also shared her views on this day.
Prof Raminder Kaur Chhabra, first woman to join Gujranwala Guru Nanak Khalsa College and retired as the Head of Economics Department, was honoured on this occasion. Prof Rajinder Kaur Malhotra, Head of Hindi Department proposed vote of thanks to express her heartfelt gratitude to all present.