Printers to observe 22nd March 2021 as Black Day: AIFMP
Constant increase in the raw material prices it is becoming a question of survival of for the printing and packaging industry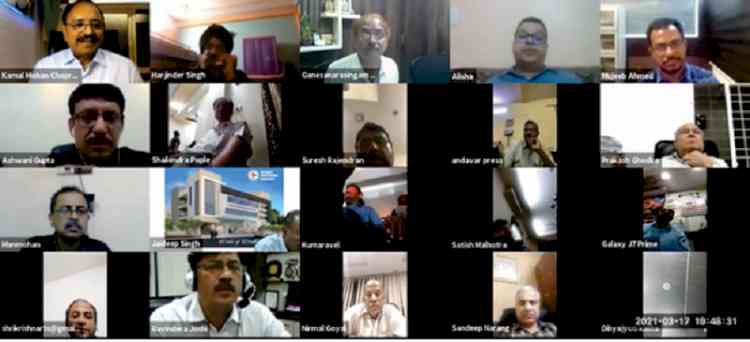 Ludhiana: Printers are suffering the biggest blow even verse than COVID these days. Taking in consideration constant increase in the raw material prices it is becoming a question of survival of for the Printing and Packaging industry. AIFMP condemn the sharp increase in the prices of raw material especially paper, plates and chemical etc. during the emergency meeting with Presidents of all Affiliate Association of AIFMP on 17th March 2021.  This unprecedented steep escalation of price of Paper by the paper mills is the major hurdle while consuming industries are not willing to pass on the cost making their business unviable.  
Prof. Kamal Chopra, President said, that in local market Kraft paper which was available at Rs. 22.50 in October now the price is quoted at Rs. 39.50. Kraft paper is the main ingredient for master cartons. Duplex board meant for cardboard boxes is priced at Rs. 55 per kg which was available at Rs. 38 per kg only couple of months before. The increase of more than 40 per cent is noticed in white paper and art paper etc. Rate of Art paper is increased from Rs. 63 per kg to Rs.85 per kg and white printing paper is now selling at Rs. 60 per kg which was available at Rs. 40 per kg some time back. It is not the only criteria that prices are increased abnormally but even at this price the paper is not available. It looks some unprecedented scarcity is created only for the purpose of earning more money by increasing the rates otherwise, there is no reason for this increase at this time.
Mr. Minoo Davar, BMPA said, it is seen that over the past about five/six months the Paper Mills in the country have exponentially increased their prices. This sudden and unnatural spiralling increase in price of basic raw material "Paper & Board" has caught the printing industry unaware. Mr. Davar added that Printing is an intermediary industry and most of the printers are operating in micro sector and also bound to abide by the contracts and tenders signed with private and various government agencies. Printers are stuck between manufacturers who increase the prices of raw material without any consideration and customers who are not willing to pay the additional costs demanded by the printers, due to the increase of raw material. This will seriously impact the Publishing and Packaging Industry.
Mr Ashwani Gupta, Vice-President (North) said that the rates are increased by the mills, with immediate effect, without giving any buffer time or a notice. Whereas printers' are supposed to supply the goods at the quoted rates calculated at the time of receiving orders. Thus printers are suffering huge losses, the paper mills must be cautioned that increase if any, must be intimated at least one month in advance. Mr Ashwani Gupta further said that in accordance with the Essential Commodities Act, 1955 (No 10 of 1955), 2 (a) (vii) paper, including newsprint, paperboard – and straw board comes under 'Essential Commodities.' We feel this law is not being implemented properly. We wish that government should intervene, to oversee its strict implementation. It will help in improving the quality and the rationalisation of rates. I feel the government will take note of it and will take strenuous steps to stop stocking and artificially created scarcity and will persuade the mills to give notice before any increase in the prices. 
Mr Raveendra Joshi, IPP said, more than 85% of printing entrepreneurs are micro or tiny units thus are not able to sustain the major jerks like this. After the lockdown due to pandemic which created a havoc, now the things have started improving, but the printers are facing loss of business due to the unprecedented hike in the prices of raw materials such as paper, plates and ink.  He further said, the printing industry is facing a crisis as prices of raw material have shot up by 50 to 90 per cent threatening to turn the business unviable. He further added that, in addition to the increase in paper prices, all other input cost such as manpower, laminating film, freight and other overheads have also witnessed a huge increase of 60-70 per cent in last few years. 
Mr G N Visvakumar, Hon. General Secretary concluded that taking consideration this constant increase of the price, it was unanimously agreed to observe 22nd of March 2021 as Black Day.  In protest, the printers of the country will bear Black Ribbon on this day.  If the miseries of the printers will not be noticed, the printers of India will go for strike.