Preventing diabetic blindness campaign at CMC
The prevalence of diabetes in India varies from 5-17 per cent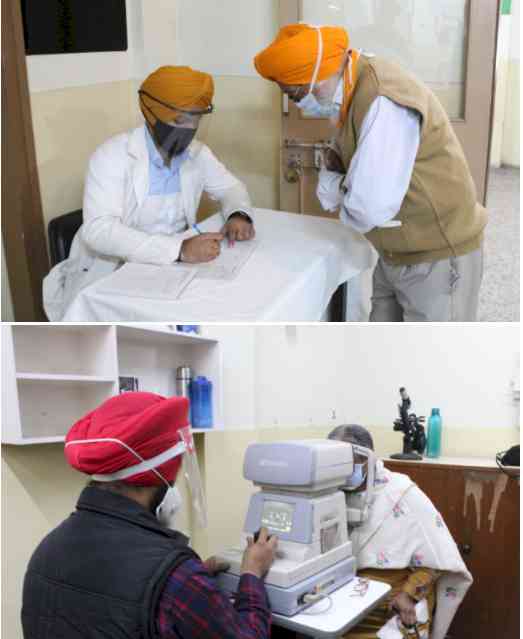 Ludhiana: IMA Punjab in association with POS and AIOS has launched a special drive for detection and screening of diabetic retinopathy for the Prevention of Diabetic Blindness (PDB). In support of this drive, The Department of Ophthalmology at CMC Ludhiana has also started a campaign in the Hospital from 16th November,2020 to 21st November, 2020 wherein all the diabetic patients presenting to hospital are being offered free blood sugar check-up and free fundus examination to screen for diabetic retinopathy. Patients are also being educated on the importance of regular fundus examination for Diabetic Retinopathy screening. 

According to 2014 estimates of World Health Organization there are 422 million adults living with diabetes with a prevalence of diabetes of 8.5%. The sub-continent of India is often called as the Diabetes capital of the world and every fifth diabetic in the world is Indian. The prevalence of diabetes in India varies from 5-17% however in Punjab, one of the few developed states of India the prevalence is 23.2% much higher than then national average. The prevalence of DR according to the AIOS (All India Ophthalmological society) diabetic retinopathy Eye screening study was 18-21.7%. The incidence of NPDR (non-proliferative diabetic retinopathy) and PDR (proliferative diabetic retinopathy) in Punjab is to the tune of 33.98% and 31.5% respectively, again much higher than the national average.

According to Dr. Rupali Chopra, HoD, the Department of Ophthalmology at CMC has been a pioneer in providing outreach services to the community. So far cataract was the main cause of avoidable blindness but now with the rise in living standards the prevalence of diabetes and its complications like diabetic retinopathy are increasing rapidly. Diabetic retinopathy is a potentially blinding condition, however, it can be effectively treated if detected early, hence screening is of utmost importance. She said that they are educating all diabetic patients visiting the hospital for various ailments to undergo regular eye examination for diabetic retinopathy under this campaign.