President of India honoured LPU Student
Occasion was Virtual National Service Scheme Awards (2018-19) Ceremony held at Vigyan Bhawan, New Delhi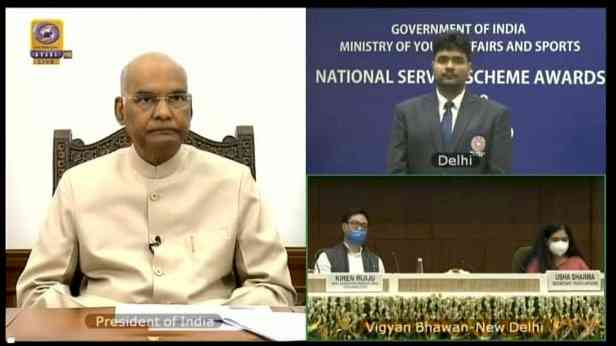 President Shri Ram Nath Kovind honouring National Service Scheme Award to LPU student Gourav Singhal.
Jalandhar: President Shri Ram Nath Kovind has honoured BTech 4th year student Gourav Singhal of Lovely Professional University (LPU) by conferring the National Service Scheme Award on him for the year 2018-19. Occasion was Virtual National Service Scheme Awards (2018-19) Ceremony held at Vigyan Bhawan, New Delhi, on 24th September 2020.  LPU student Gourav is the only awarded student of a private university and one among 32 volunteers selected for awards from across the country. He has been chosen from 40 lakh NSS Volunteer Students of 298 Universities and 42 School Conclaves & Vocational Institutions from across the country.

As per his zone, LPU student was invited at Vigyan Bhavan, New Delhi, to receive the award. Youth Affairs and Sports Minister Kiren Rijiju also attended the ceremony. As Gourav stepped on to the Award bestowing podium, a citation was read out aloud that Gourav is being awarded for his contributions to the society towards "Free Education; awareness for drug de-addiction camps; and, campaign against social evils and ill traditions. Gourav has been awarded with the Citation Certificate, a Medal and Rs One Lac.

Addressing on the occasion the President Shri Ram Nath Kovind said that service to humanity and nation has been the tradition of Indian value system and it has its roots in its traditions. Sharing that the NSS (National Service Scheme) was launched in 1969 on the 100th birth anniversary of Mahatma Gandhi, he said that the 'Scheme' continues to be of immense relevance even today. He appreciated the presentation of awards even in testing times of COVID pandemic. Talking about the NSS, he asserted that it encourages youth to volunteer for community service through various measures true to its motto of "Not me, but you".  Sharing that 40 lakh students of various educational institutions are associated with this noble scheme, he assured that the future of India is in safe hands. He also appreciated the volunteers for their services in creating awareness about social distancing, food serving, proper usage of masks in times of COVID 19 and providing relief and rehabilitation to floods and earthquake victims.

Congratulating the "made for society" student-Gourav Singhal in particular, all other NSS volunteers and Program Officers at LPU; Chancellor Ashok Mittal shared, "It is a matter of great pride and happiness that LPU student has emerged the best from among many lakhs of other volunteers from across the country.