'Prasang'- student research webinar series launched by Amity School of Communication  
The next session in the series will be on 'Conflict Resolution'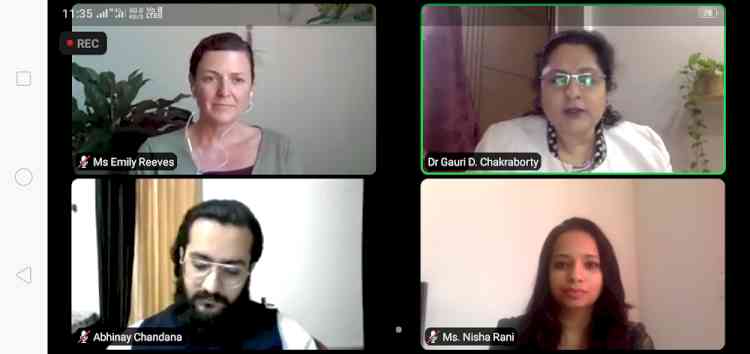 A unique research-based seminar series to encourage and highlight the work of young research scholars and post graduate students all over the World from top Universities and institutions was launched by Amity School of Communication, Noida. Titled 'Prasang', the webinar series will provide students a critical appraisal of their work by fellow scholars, professors and experts in the field. 
   
The initiative has created the desire for in depth study of existing theories and new outcomes from the learning of the already available work in the field of arts and humanities.  
 
The inaugural session of the series was dedicated to "Gender Studies" with Ms. Emily Reeves, PG Mass Communication Program student of Deakin University Australia presenting her research, "Women Who Change the World: Equipping India's Future Changemakers'. Further, post graduate students of M.A. (Advertising & Management program Batch 2020 of Amity School of Communication, Ms. Sonal & Ms. Vidushi also presented their research proposal on "Contribution of Media in Women Emancipation".   
Declaring the seminar series open, Prof. Dr. Balvinder Shukla. Vice Chancellor, Amity University emphasized on the role of research and innovation. "This is a good initiative, and we will encourage students across the globe to participate and put forward their idea and concepts. This will create a good research environment in the department and the University as well," stated Dr. Shukla.    
Ms. Emily Reeves while sharing insights from her research, said that in India, women spend over 570% more time on unpaid domestic duties than men. She further added that globally unpaid caregiving is the primary reason women do not enter the paid workforce. Also, continual effort to balance competing demands creates continual tension and feeling of guilt among women. She also shared the safety issues of sexual violence & emotional harm faced by women with India ranking 133 out of 167 countries based on themes of inclusion, justice, safety and security. Ms. Reeves attributed the cause behind most of the issues to the patriarchy problem prevalent in the country. She also shared the strategies for removing barriers including establishing and nurturing strong relationships helps navigate gender barriers & women supporting women.   

Ms. Sonal Bhatt & Ms. Vidushi Gupta stated the evolving roles of media and shared how 'media has been pivotal in highlighting the lacunas in societal structure like gender inequality and their eventual consequences in the form of violence against women'. Their work analysed how 'media has played a vital role in breaking old stereotypes but also creating and reinforcing new stereotypes in the society' & 'how their idea was to promote individuality than herd mentality'. Discussions also revolved around the positive and negative impact of social media platforms in depicting women on one end but also giving them a voice to highlight their achievement.    

'Prasang', with its series of webinars, will look to facilitate interactions related to research of Postgraduate and PhD scholars of Amity University students with other students from national and international institutions to encourage and motivate them to take part in academic research. The inaugural webinar was moderated by Dr. Gauri D. Chakraborty, Joint Acting Head, Amity School of Communication, Ms. Nisha Rani and had more than 250 students UG and PG students of Amity University along with research scholars, Faculty members and academic staff in other universities attending the session.   
 
The next session in the series will be on 'Conflict Resolution' and is scheduled for Nov 6, 2020 featuring student presenters from Tel Aviv University, Israel.