Pralay's character little crazy and unpredictable: Ajay Chaudhary 
Speaks on his role in Sony SAB's Tenali Rama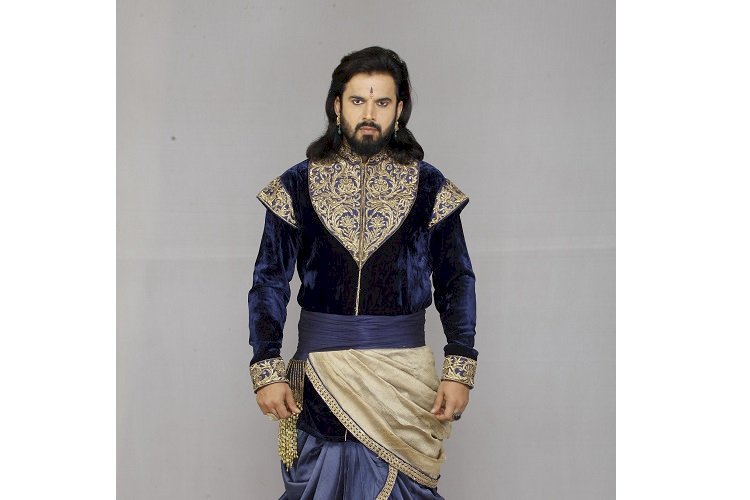 Ajay Chaudhary as Pralayankar in Sony SAB's Tenali Rama.
How does it feel to be a part of the Sony SAB Family again?
I started my journey with Sony SAB. So, it's overwhelming to be back again, with a show like Tenali Rama. Initially, I wasn't much aware about this show as I don't watch much of television but Tenali Rama has been doing really well and the characters are extremely interesting. Having run for more than 2 years, the show has made its place in the hearts of the audiences and I am happy to be a part of this beautiful show. It feels good to be back home.
What made you opt for a negative role, that of Paralayankar (aka Pralay)?
When I first did my show on Sony SAB, it was a grey character in a love story. Now, after all these years, coming back with a negative character is a different feeling altogether. It's something truly different for me as I have never done a historical show previously and the character was appealing for me. The thing which really attracted me to this character was that it's a little crazy and unpredictable. In a show like Tenali Rama, that has some humor along with a very strong language, playing a psychotic role is challenging and at the same time interesting.
How is the character of Pralay different from other characters you have previously played?
This is the first time I'm playing a role like Pralay. And this is extraordinary because of its madness and the language. So, for me it's something new which I feel would be appealing to the audience as well.
Did you do any specific preparations for this role?
Usually, for me, it's more of a mental preparation than the physical preparation. I keep on creating imaginary scenes about the character. However, for the role of Pralay, I actually had to take a lot of physical practices as well like performing stunts and doing Talwaarbaazi. I have never explored this side of mine as an actor so it was a new experience for me. I never thought I would do talwaarbaazi but this helped me know my strengths and abilities. I actually got super hero vibes on the sets of Tenali Rama.
Talking about the look of this character, I had actually grown these long hair for some other reason and then this show happened to me. Although the long hair was not a requirement for the role of Pralay, it gave an added depth to the character.
What are your thoughts on playing a negative role? Are you inclined towards such roles?
I haven't thought of it this way as I started my career with a negative role itself. For me, it depends on the role and how it will shape up or how the journey would be. Before taking any role, I just think how this character would look and how important this character would be in the show. But I love to play such different and crazy kind of characters.
Would you like to share something about the upcoming track on the show Tenali Rama?
We are coming up with the Naya Adhyaay of Tenali Rama. In this new phase, I play the Mahamatya, who is smart, powerful and has the mind of a strategist. Where Ramakrishna is on the positive side, Pralay this guy is on the negative side. So, it is the fight between both of them.
Do you watch Sony SAB? What is your favorite show on the channel?
Yes, I do watch Sony SAB and my favorite show now is obviously Tenali Rama. Apart from it, I used to watch Taraak Mehta ka Ooltah Chashmah with my family. Earlier, one of my friends was working in Yaro ka Tashaan and I really liked watching that show on Sony SAB too. In today's time, there are a lot of amazing shows on Sony SAB including Tenali Rama and hence, I thought of doing this show.