PPBM opposes amendments in Finance Act, 2020
Presses upon the government to get this amendment pending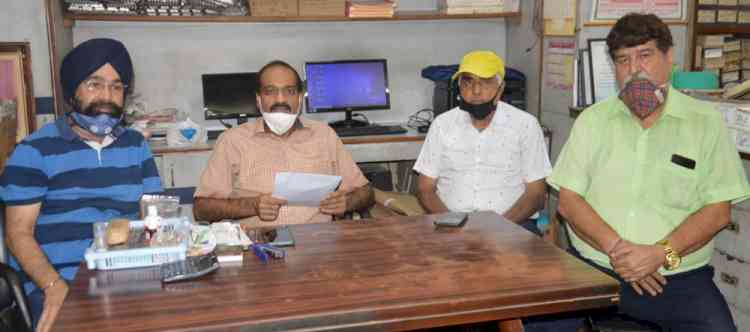 Ludhiana: Punjab Pradesh Beopar Mandal (PPBM) has stated that Punjab Government is not watching interest of the traders therefore it cannot be termed as pro-traders' government.

Addressing a press conference here today, the mandal's state general secretary Sunil Mehra, state secretary Mohinder Aggarwal, district president Ravinder Singh Makkar and chairman Pawan Lehar said that trade is already in crisis due to the ongoing pandemic situation. The trade activities have come down to almost fifty per cent in Punjab, poor people have lost their jobs and traders do not have resources to make payments to their workers and EMIs to the banks.  

They pointed out that Punjab Government instead of supporting the traders in this time of crisis, is bent upon to destroy them by issuing them VAT notices for the period 2012 to 2017. Whereas it is a hard fact that traders are backbone of the state and the government runs on the shoulders of traders. They warned that traders would come on the roads to express their resentment if the state government did not change its attitude and the entire responsibility of all the outcomes will lie on Capt Amarinder Singh Government.

They said it was astonished to note that on one hand the Punjab government was becoming a party in the protests being staged by farmers organisations and on the other hand it was compelling traders to come on the roads.  

They further said that they had contacted the BJP's national general secretary Tarun Chugh on phone making him appeal to come forward to watch the interests of traders. They discussed about the changes made in the Finance Act, 2020. The Act has amended the provisions relating to TCS w.e.f October 1, 2020 to provide that a seller of goods shall collect tax at the rate of 0.1 per cent (0.75 per cent up to March 31, 2021) of the receipt of sale consideration from a buyer exceeds Rs.50 lakh in the financial year. They urged upon Tarun Chugh to press upon the government to get this amendment pending in the larger interest of the traders because it is likely to greatly affected traders, if implemented. In reply, Chugh assured to get arrange a meeting with the concerned higher authorities to get resolve the issue.