PPBM expresses concern over deteriorated condition of power supply in Punjab
Says frequent scheduled and unscheduled power cuts of long durations rendering a great loss to trade and industry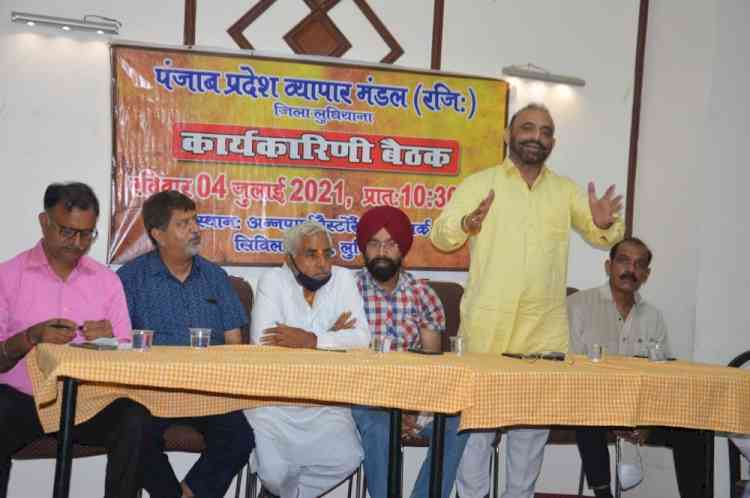 Ludhiana: A meeting of Punjab Pradesh Beopar Mandal (PPBM) held here today under the leadership of the state general secretary Sunil Mehra and Arwinder Singh Makkar. 
Addressing the meeting, the mandal leaders including Sunil Mehra, Arwinder Singh Makkar, Dr Kamaljit Singh Soi, Praveen Goel, Surinder Aggarwal, Ashwani Mahajan and Pawan Lehar expressed concern over the deteriorated condition of power supply in the state.
They regretted that frequent scheduled and unscheduled power cuts of long durations are being imposed, thus rendering a great loss to trade and industry. The acute power cuts are heavily impacting economy of the state, they said. 
The mandal leaders categorically stated that they would be constrained to come in the roads to lodge their protest if adequate measures are not taken to ensure uninterrupted power supply in the state.
They also condemned the government for introducing professional tax and not announcing any relief package for traders who have suffered heavily due to the pandemic.
They said assembly elections are to take place next year in Punjab. Traders are ready to teach a lesson to the political parties which are not watching interests of the traders' community. They said every political party releases poll manifesto during elections but all these poll promises proved false. But, now people of Punjab will not tolerate this bundle of lies in the election manifestos, they remarked. They strongly demanded that election manifestos be declared as legal document so that suitable legal action be taken if any political party fails to fulfill its election promises.
In the today's meeting, Sunil Mehra declared to appoint Surinder Aggarwal as the district general secretary and Rajesh Gupta the state general secretary.
On the occasion, Rajneesh Gupta, Advocate Amit Gupta, Umesh Sood, Shiv Sohar, Ashok Seth, CA Rajiv Kumar Sharma, Jagmohan Suri, Dr. Kamaljit Soi, Sahil Kalia, Harendra Kumar, Vimal Kumar Harjai, Banwari Harjai, Ved Bhandari, Sachin Verma, Jeevan Mehra, Rajan Gupta, Raj Hans, Ram Sahai, Lalit Mehra, Rakesh Dhawan, Suresh, Mahendra Pal Singh, Shivkumar Sharma, Purushottam Lal Soni, Harish Saggad, Rajan Bansal, Pawan Batra, Sanjay Kumar, Vivek Tandon, Rajesh Gupta, Neeraj Bindra, Jyoti Swaroop, Chetan Rudra, Sanjeev Tandon, Rajendra Singh, Rakesh Vohra, Harish Grover and others were present.