Power packed online fresher's party by English Deptt, PU
Miss Fresher and Mr Fresher Chosen Online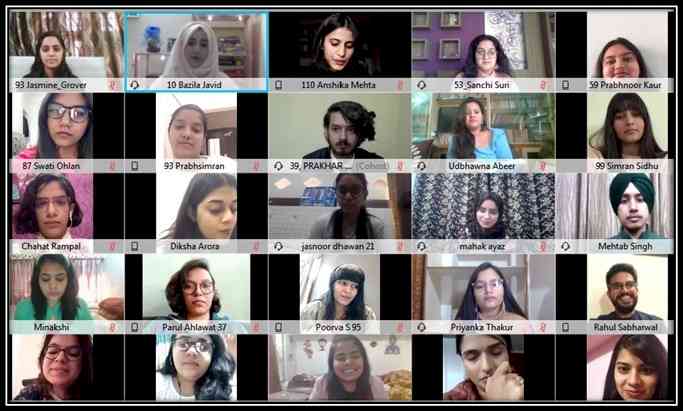 Chandigarh: Department of English and Cultural Studies, Panjab University Chandigarh under the stewardship of chairperson, Prof. Deepti Gupta, organized an online "Fresher's Party" , an initiative taken by the students of MA English Final Year to welcome and celebrate the newly joined batch.

Prakhar Sinha, Class Representative, MA Final Year welcomed everyone and introduced the fellow anchors of the event, Bazila Javid and Udbhawana Abeer. 

The event started with a warm welcome by the MA II students and an inspirational speech by Ms. Jasmine Grover urging the new students to enjoy their days as students of Department of English and Cultural Studies, Panjab University.
 
 This was followed by a song by Jasnoor of MA II and a poem by Priyanka of MA I. A quiz on 'popular culture' was organized by Ms. Parul Ahlawat where questions from Bollywood and English TV shows were asked in a rapid-fire round, and the winners were rewarded with e- certificates.

Melodious song performances were given by students of both the years, which kept everyone entertained. New students were highly enthusiastic about the event and actively participated in every party game that was organised. 

The highlight of the event was a funny dance performance by Prakhar, which left everyone laughing uncontrollably. Prakhar, Tanya, Poorva and Vandana also presented a peppy Bollywood number which set everyone grooving. 

New students recited their own poems, and some delivered speeches on social issues like women oppression, excessive academic pressure and no access to quality education in remote areas.

Final year students highly appreciated these speeches and rewarded them with thunderous rounds of applauses. Mehak Ayaz and Roohie won titles for best speech and poetry respectively.

This was followed by the online Fashion Show. The participants were asked to record their ramp-walks at home, which were streamed during the meeting. The show was judged by senior students who specialized in modelling and fashion. Mr. Fresher was awarded to Shivanta Vashishth and Miss Fresher was awarded to Anshika Mehta, who stole the fashion show with their performances. They were given e- certificates.

The event ended with the new students thanking their seniors for working hard and for organizing an event that brought smiles to their faces in these extraordinary and challenging times. 

Professor Harpreet Pruthi and Professor Pratibha Nagpal joined in to welcome new students and congratulated the final year students for their efforts. The event concluded on an emotional note where everyone wished to see each other soon, in person. The innovative idea of an online Fresher's Party was a big success.