Post covid clinic started in Hero DMC Heart Institute
Secretary of DMCH Managing Society Prem Kumar Gupta formally inaugurated the opening of this exclusive clinic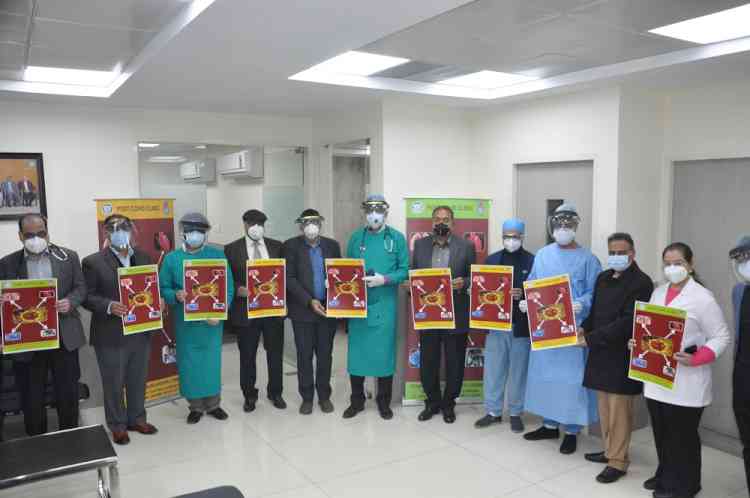 Ludhiana: Hero DMC Heart Institute today started Post Covid Clinic. The clinic will be held on every working day in OPD of Hero DMC Heart Institute from 1 pm to 4pm.
Secretary of DMCH Managing Society Prem Kumar Gupta formally inaugurated the opening of this exclusive clinic for serving the people of region. In his address, Gupta said that DMCH played a very active role in making people aware about taking various precautions of restricting the spread of COVID pandemic. Also present on the occasion were Principal Dr Sandeep Puri, Vice principal Dr GS Wander, Medical Supdts. Dr Sandeep Sharma, Dr Ashwani Chaudhary and Medical Supdt of HDHI- Dr Bishav Mohan.
Elaborating on the launching of these services, Dr Bishav Mohan said       Post-COVID Clinic at Hero DMC Heart Institute will cater the rising number of patients who have recovered from COVID-19. The clinic will help those who suffer from the mid and long term persistent effects of the infection. Over 40% of COVID patients suffer from problems that include breathlessness, chest pain and heart issues, joint pains, neurological problems, for months after contracting the novel coronavirus.
Many patients who have recovered from COVID-19, have been contacting us for symptoms that they are having. To address these health issues faced by patients who have recovered from COVID-19, we have started the Post-COVID Recovery Clinics. These exclusive clinics for post-COVID care will help patients to connect to the specialised care that they need.