Population control law should made at earliest: Shanta
Says, the capital of the country has become a gas chamber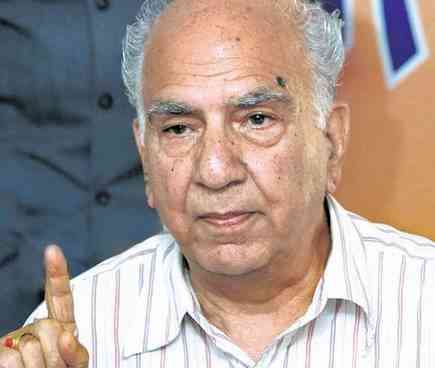 Senior BJP leader and former Chief Minister Shanta Kumar.
Dharamshala: Senior BJP leader and former Chief Minister Shanta Kumar has written a letter to Prime Minister Narendra Modi expressing concern about the rising pollution and corona. He wrote, "The capital of the country has become a gas chamber. It has become the most polluted among the capitals of 190 countries of the world. Now the capital has also become Corona Capital." He has written in the letter that India, which has embellished with the Himalayas in the north and the sea in the south, has started groaning with utter pollution. He expressed surprise that on this problem only sticks are being rolled only in the air, the real reason is not being seen.

He wrote that the biggest reason is population explosion. Rising from 35 crores after independence, India has become the second largest country in the world with 141 crore population. Every problem grows along with the population. The population explosion is also the reason for increasing poverty and unemployment in the country.

Shanta Kumar said that PM Narendra Modi in his speech from the Red Fort on  August 15, 2019,  mentioned this problem and said that population explosion is a matter of concern. He complained to the BJP government by writing that if it is an explosion, why has the government not acted to stop it ,till date. Shanta wrote that the corona vaccine will come to overcome the pandemic, but due to the population explosion, rising poverty, starvation and unemployment are creating another huge crisis for the country.

He has suggested to the PM to take initiative on this problem at the earliest. To solve the problem of population explosion is soothing more than the abolition of section 370 of Kashmir. " For this, a law should be made at the earliest and so many facilities should be given to the family of a single child, so that the population could decrease," added Shanta.