Police recover kidnapped student within 5 hours
Ferozepur police claimed to have recovered a kidnapped student within 5 hour and have arrested three accused in this case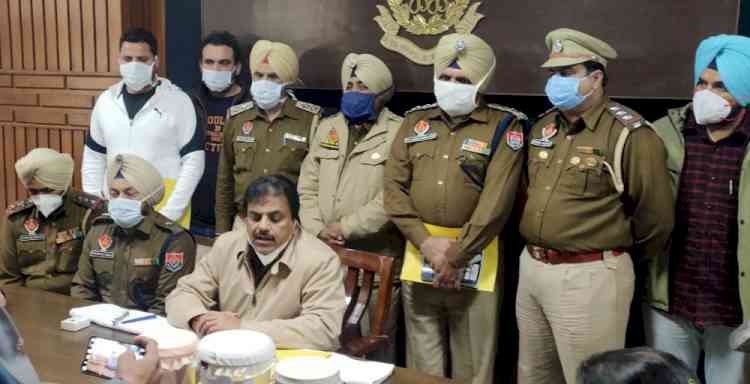 Ferozepur, January 13, 2022: Ferozepur police on Wednedsday claimed to have recovered a kidnapped student within 5 hour and have arrested three accused in this case. While giving details, Narinder Bhargav SSP said that the accused identified as Karan, Raj Singh, Amarjit Singh, Akash had allegedly kidnapped DevVeeram (16), a student of 10+1and resident of city area while he was going for tuition in the evening on his Activa bike (PB 05 AN 9238) towards cantonment area. 
A complaint was registered at city police station following the complaint registered by Sanju Sharma, mother Dev under sections 364 IPC and 25, 54, 59 Arms Act (FIR No. 15 dated 11.01.2022). 
The SSP said that the accused contacted the parents from mobile number +1 (662) 734-3586 and sent one video message and two audio messages to them and demanded ransom of Rs. 5 Lakhs. 
"Immediately a four member special team under SP Investigation Manvinder Singh was constituted to investigate the matter. After going through the call records and CCTV footages, the police nabbed the accused Karan (23), Raj Singh (25),  both residents of city area, Amarjit Singh (22) resident of Village Dumni Wala in Kulgarhi block and recovered Dev Veeram from Village Dumni Wala. One other accused identified as Akash (23) alias Jony, a resident of city area managed to flee. The entire operation was completed within five hours", said SSP. 
"The police has also recovered 1 pistol (.12 bore), two cartridges (.12 bore), 1 pistol (.315 bore), two cartridges (.315 bore), a motorbike (without number), three mobiles from the accused. The Activa bike used by Dev has also been recovered", said SSP. 
"The accused were inspired by some Hollywood movie due to which they tried to kidnap Dev", SSP further added. 
The SSP said that the accused will be produced in the court tomorrow. A manhunt has been launched to nab Akash the other accused and soon he will be arrested by police.  
It is pertinent to mention here that the main accused Karan had been booked by police under section 307 IPC and Arms act case at city police station.