Police Commemoration Day at PU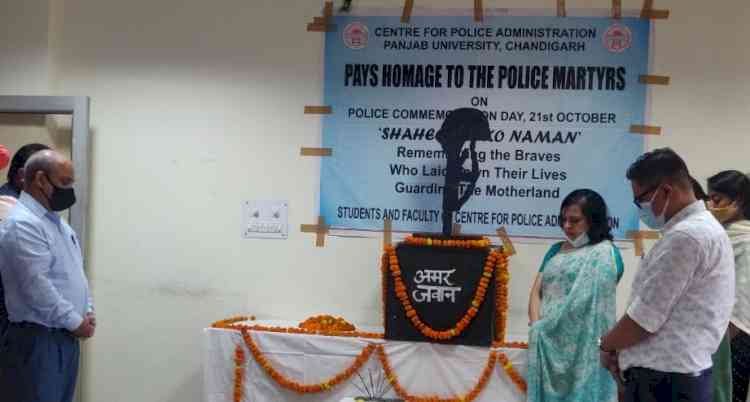 Chandigarh, October 21, 2021: Centre for Police Administration, Panjab University, Chandigarh organized 'Shaheedon Ko Naman' to mark the Police Commemoration Day today with Prof. Anju Suri, Dean International Students, as guest of honor.
            Prof. Suri lauded the role of police in maintaining peace and order in the society. According to her the members of the society specially the youth should be thankful to them and draw inspiration from the dedication and devotion shown by the police towards their duty. Later, she led faculty, students, and staff of the centre in paying homage to police martyrs by offering flowers.
            Prof. Anil Monga, Chairperson, Centre for Police Administration while welcoming the guests traced the history of Police Commemoration Day and said that on 21st October, 1959, a patrol party of CRPF was ambushed by the Chinese Army in Hot Springs, Ladakh, in which 10 police personnel were martyred. Since then this day is commemorated to pay homage to the police martyrs. He highlighted that the purpose is to create awareness and sensitize the students towards the sacrifices being made by the Police force.
            A documentary film "Wall of Valour" A Tribute to Martyrs was screened on the occasion. The Producer/Director of the documentary film Ms. Beenu Rajput while interacting with the students shared her experiences of making this film. She said that meeting with the families of police martyrs were a life time experience and their sacrifices are invaluable. She made an appeal that people should come forward and provide help to the families and children's of the police martyrs.
            The event was attended by faculty, research scholars and students of Centre for Police Administration. Dr. Kuldeep Singh, Assistant Professor, Centre for Police Administration proposed vote of thanks to everyone present on the occasion.