PM of Tibet Government in exile Lobsang Sangye attended Republic Day celebrations at Dharamshala
Himachal Minister Rajiv Saizal presided over district level function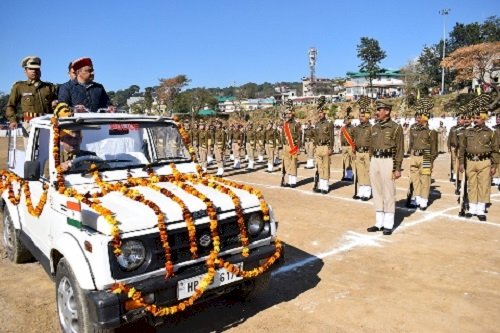 Dharamshala: Social Justice and Empowerment and Cooperation Minister Rajiv Saizal presided over the district level Republic Day celebrations at Dharamshala in Kangra district today. Minister unfurled the national flag and took salute of the attractive march past, drawn by contingents of NCC, Scouts and Guides and NSS students from Police, Home Guards and various schools. Rajiv Saizal recalled the valuable contribution, selfless sacrifice and sacrifice of the Constitution makers as well as the freedom fighters in the establishment of the country's independence and republic. He also thanked the soldiers of the Indian Army for valuable services.

He said that Kangra is the largest district in the state in terms of population, keeping in mind the state government has effectively implemented public welfare policies and programs with a development oriented approach and new dimensions of development in Kangra. He said that the state has made an unprecedented progress in all areas of development. All the people of this state deserve praise for this progress. "The state has shown a new direction of development to the hill states. The state is poised to become an investor favourite destination ,not only in the country but also in the world. Global Investor Meet was organized for the first time in the state on November 7-8, 2019 at Dharamshala. In this meeting, 703 MoUs of investment proposals worth more than 96 thousand crore rupees has been signed," said inister.
He added that the state has presented exemplary performances in areas like good governance education, health, social welfare, agriculture, horticulture, for which the state has also received several awards at the national level.
Rajiv Saizal said that in the first meeting of the cabinet, the present government reduced the age limit for obtaining social security pension from 80 years to 70 years, with no income limit. This decision has brought special benefits to senior citizens. Today, about 3 lakh 57 thousand seniors are getting pension in the state. Special relief has been provided to the people of the state due to the effective implementation of major schemes such as Jan Man Manch, Chief Minister Seva Sankalp Helpline, Himachal Grihini Suvidha Yojana, Himcare and Sahara. He said that under the 'Him Care' scheme being run for all the families not covered under Ayushman Bharat Yojana in the state, free treatment facility is being provided for five members of Rs. 5 lakh per family. To avail the scheme, 199 hospitals have been registered, including 56 private hospitals. Within a year, 5 lakh 50 thousand families have got themselves registered. So far, more than 58 thousand patients have taken advantage of this scheme, on which the government has spent Rs 54.75 crore. Under the Ayushman Bharat Scheme, 1 lakh 72 thousand health cards have been created in Kangra district.
The Social Justice Minister said that there are immense possibilities of tourism in district Kangra. Thousands of tourists from all over the world come here every year for various Shaktipeeth and adventure tourism. An amount of Rs 1.20 crore is being spent on beautification of Dal Lake. Apart from this, Rs 1.15 crore is being spent on Saurabh Van Vihar Palampur, Rs 1.20 crore on Kangra Village Hot. To develop tourism in Beed Willing, 21 crore rupees are being spent under the "Nai Rahein Nai Manzil" scheme. The work of beautification of Chamunda, Kangra and Jwalaji temples has also started. Effective steps have been taken to provide better facilities to devotees. Water sports and other possible activities will be expanded to develop Pongdam area of the district from tourism point of view.
Earlier, Rajiv Saizal went to the Shaheed Memorial in Dharamshala to pay tribute to the martyrs.
On this occasion, Deeksha, Sukirti Kaundal, Priya, Khushi, Shagun Chaudhary, Saloni were also awarded by the Chief Minister for the winners of the poster and slogan writing competition of "Beti Bachao Beti Padhao".
Rajiv Saizal also distributed wheelchairs, hearing aids, smart cans, CP chairs etc. to Divyangjans Deeksha, Rajmal, Nanak Chand, Shaina, Sania.
Apart from this, the Minister of Social Justice and Empowerment also honored daughters who performed excellently in various sports . These players include Aanchal Rana of Baijnath, Priyanka of Bhawarna, Jennifer Guleria of Dehra, Supriya of Dharamshala, Shruti Sharma of Fatehpur, Somi Devi of Fatehpur, Naina Devi of Kangra, Kavita of Lambagaon and  Aarushi Walia of Nagrota Bagwan.