Plasma donation awareness song in Kannada launched
Sung by Baahubali Fame MM Keeravani and Srinidhi Tirumala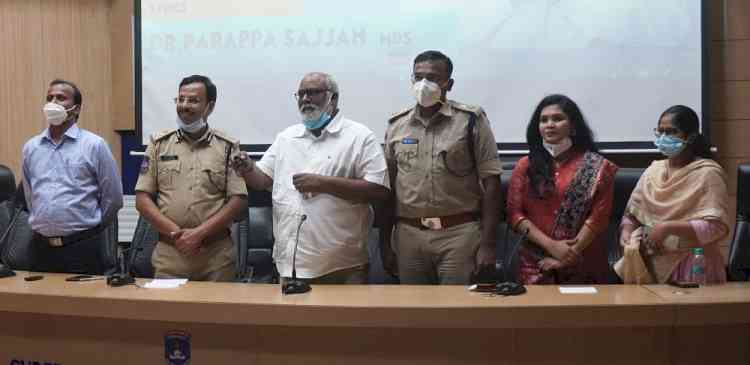 MM Keeravani, Music director_ VC Sajjanar, Police Commissioner, Cyberabad seen Launching the Plasma Donation Awareness Song.
Bangalore/Hyderabad: Karnataka and Telangana Police Jointly embarked on an initiative to create awareness for Plasma Donation, not only a hope as of now for Covid Management .  They have come out with a Song in Kannada to create awareness about plasma donation. 
 
Penned by Dr. Parappa Sajjan, a Kannadiga, a Master in Dental Surgery and a Professor at Malla Reddy Dental College in Hyderabad, it is titled "Plasma Dana Jeeva Dana". The song 'Coronanada kaggatalu avariside amanadalli' brought out with a single aim to create more awareness, instill confidence in people and save lives through better awareness.  
 
The song according to Dr. Parappa Sajjan goes something like this: 
 
"The soul is surrounded by the darkness of corona, the journey to the mortuary without family and friends have disturbed my soul. How do I prevent the merciless killing of Corona, how do I bear the pain and suffering of departed souls, console the deeply disturbed souls? I will try to be light for darkening houses. Among the many efforts to win the corona, I have realised the importance of plasma. I donate plasma, I will try to be a saviour"
 
'When there is no definite cure, the vaccine is only expected after some more months, we need something for people to motivate them to fight the dreaded disease. When they are going through psychological trauma, this song gives them a ray of hope', explained the lyricist Dr. Parappa Sajjan. 
 
That is why the song says 'not to fear about the disease' and it wishes Covid recovered patients to become Plasma Donors whom Cyberabad Police in Telangana describe Plasma Sanjeevani.  
 
It is his maiden attempt. Encouraged by the overwhelming response, I may try my hand on different causes that society is plagued with he said. 
 
A song of five minutes was launched in Hyderabad graced by three Karnataka born, Kannadiga Police officers VC Sajjanar, Police Commissioner, Cyberabad, Telangana Police;  SM Vijay Kumar, IPS, DCP Traffic Cyberabad Police; Rohini Priyadarshini, DCP Crime;  MM Keeravani, Bahubali fame and India's well-known music director, record producer and playback singer best known for his works in Kannada, Telugu, Tamil, Malayalam and Hindi cinema and Srinidhi Tirumala, an eminent Carnatic Musician, Playback Singer and Music Director and Dr. Parappa Sajjan, the Lyricist of the song, a Kannadiga, a Master in Dental Surgery and a Professor at a local College.  
 
The song will be made available on as many social media platform as possible. And the public at large are requested to share among their contacts and well-wishers.  
 
Speaking on the occasion VC Sajjanar, the cop who is always in the forefront in community outreach programs like this and many more thanked Praveen Sood, DGP of Karnataka, M. Mahender Reddy, DGP of Telangana for all the cooperation and support. With more awareness even if we save few lives, the objective of the song is met he said and thanked Keeravani, who despite being Corona victim himself and the whole of his family has come forward and extended full support.  Keeravani himself donated Plasma twice.
 
Keeravani said increasing awareness will yield better results. Donating plasma is now more important than ever before.
 
Singer and Music Director Srinidhi Tirumala said that she is humbled for the opportunity given and pledged her support of any future endeavors like this. 
 
The good work done here must go places and must benefit more from our efforts and expertise. We want to reach out to more people and save more lives, said SM Vijay Kumar, DCP Traffic, Cyberabad Police of Telangana Police. 
 
Rohini Priyadarshini, DCP,  appreciated the song and the team behind it.
 
The artists behind producing the song are Srinidhi Tirumala, known for her song "Kanna nidurinchara.... in Bahubali provided Music and lent voice. She has done the overall coordination in making of it. MM Keeravani under whose supervision the song is produced lent his voice. Both Srinidhi Tirumala and MM Keeravani sang the song. Jeevan extends Keyboard support, Geminee Rao was on the Tabla, the chorus for the song was given by budding singers Shruthi, Sathya Yamini, Hymanth, Aditya, Saketh, Harsha, Deepu. The Concept and Cinematographer for the video is Haima Reddy. The video was created by SS Creatives and MM Keeravani.  
 
Society for Cyberabad Security Council (SCSC) a not-for-profit body representing IT companies that promotes safety and security in the IT corridor of  Telangana in tandem with Cyberabad Police also extended its support in bringing out the song in Kannada.  
 
According to Krishna Yedula, General Secretary of SCSC, it developed and launched an online link donateplasma.scsc.in in the month of  June to connect  the plasma donors  and recipients on one platform.  Which was a huge hit and became the talk of the nation. 
 
'Plasma Donation' drive, the most sought after and timely initiative of Cyberabad cops of Telangana Police is highly appreciated by one and all across the country. It has set an example of how police have gone beyond call of their duty to rescue society in the light of the outbreak of the pandemic.
 
 Their timely efforts resulted in more than 3000 people who donated plasma and saved 5500 lives in a critical and emergency condition. These beneficiaries come from not just Telangana state, but from neighbouring states like Karnataka, Tamil Nadu, Andhra Pradesh and Maharashtra. The model is either being replicated or their help is sought. The Cyberabad Cops Good Samaritan efforts reached out police in Maharashtra, Pune. 
 
Now with the song in Kannada, the more awareness is expected to be generated among the Kannada speaking people living in Telangana, Karanataka and rest of India. 
 
Right now Plasma Therapy is giving some encouraging results and seen as a hope. Even people also are asking for it.  But, awareness of the same is not as expected. We will try out best to generate more awareness. Because,  every life matters. Plasma Donation is the only hope said VC Sajjanar and urged more people to join hands with them in their crusade.