Planet Marathi presents Filmfare Awards Marathi 2022 lauds outstanding achievements in Marathi Cinema
The star-studded evening was held on 30th March 2023 at Mahakavi Kalidas Natyamandir, Mumbai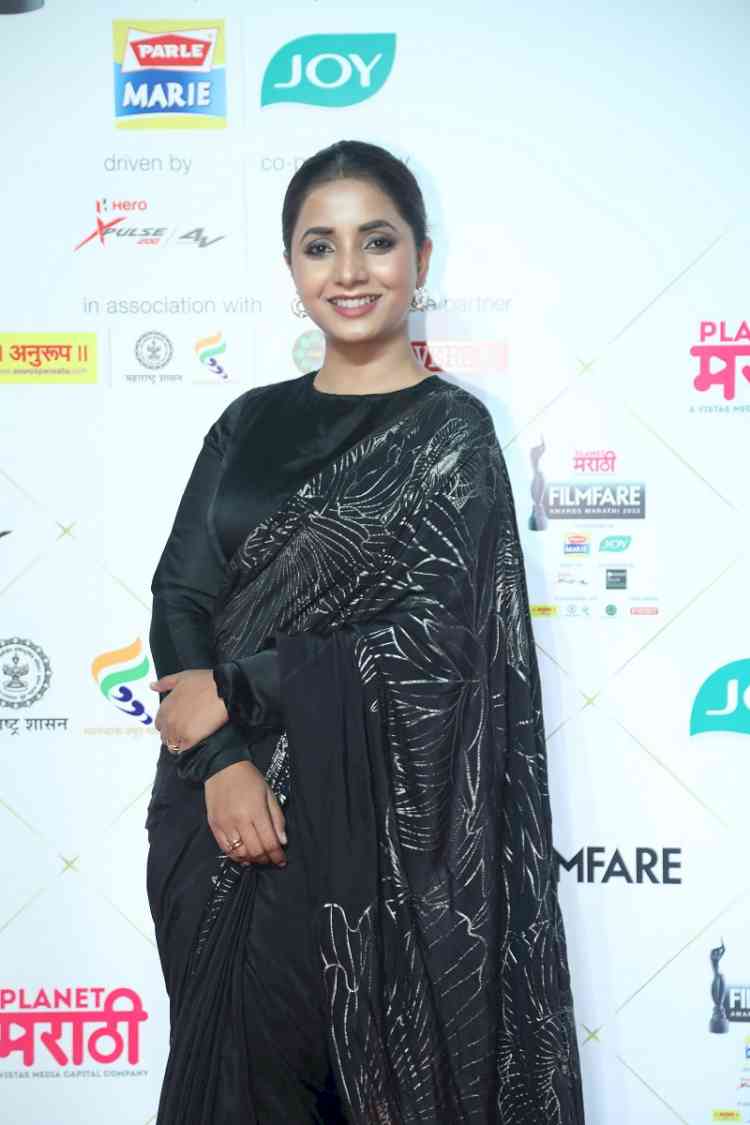 Sayali Sanjeev at the red carpet of 7th edition of Filmfare Awards Marathi 2022 in Mumbai.


The Filmfare Awards Marathi 2022, in association with Title Partner Planet Marathi, celebrated the finest artistic achievements in Marathi cinema on 30th March 2023. The event was a grand spectacle with stunning performances on stage and several renowned artistes in attendance. Held at the Mahakavi Kalidas Natyamandir in Mumbai, the 7th edition of the awards continued to recognize both on-screen and behind-the-scenes talent that contributes to the Marathi film industry's success.
The ceremony featured several notable wins, including Godavari winning the Best Film category. Prasad Oak received the Best Actor (Male) award for his exceptional acting skills, while Sayali Sanjeev was awarded Best Actor (Female) for her outstanding performance in Goshta Eka Paithanichi. Dr. Jabbar Patel was also honored with the Lifetime Achievement Award for his significant contributions to Marathi Cinema.
The evening was hosted by Amey Wagh and Siddarth Jadhav and packed with doses of laughter and entertainment. The stunning Vaidehi Parashurami, Sanskruti Balgude, and Amruta Khanvilkar set the stage ablaze with their captivating dance performances. Shreyas Talpade also delivered a power-packed performance, followed by acts from Sonalee Kulkarni and Pushkar Jog, among others.
 
The event was a star-studded affair, with prominent figures from the Marathi entertainment industry walking the red carpet in their fashionable gowns and saris, exuding glamour and style. Among the notable attendees were Amruta Khanvilkar, Sai Tamhankar, Sonalee Kulkarni, Girija Oak, Mrinal Kulkarni, Nandita Dhuri, Mugdha Godbole, Nehha Pendse, Neena Kulkarni, Kishori Shahane, Shweta Shinde, Kranti Redkar, Tejasswi Prakash, Shivani Rangole Kulkarni, Usha Utthup, and many others. The dapper men of the industry, including Shreyas Talpade, Sachin Pilgaonkar, Bhushan Pradhan, Gashmeer Mahajani, Shiv Thakare, Arun Kadam, Addinath Kothare, and Om Raut, looked sharp and confidently posed for the shutterbugs.
 
Sharing his thoughts, Deepak Lamba, CEO, Worldwide Media said, "At Filmfare, we are extremely delighted to be a valuable part of this remarkable journey honouring the exceptional work of the Marathi Film Industry. It is our honour to celebrate the countless and unparalleled works of art in Marathi cinema. We extend our heartfelt congratulations to the nominees and winners who have been entertaining audiences with their inexplicable talents. We are happy with our long-standing association with Planet Marathi and look forward to it flourishing in the coming years."
 
Jitesh Pillaai, Editor, Filmfare added, "We, at Filmfare, are proud to be celebrating the essence of the cinematic excellence of the Marathi film circuit with talented artists, filmmakers, and storytellers who continue to take this legacy forward. We would like to congratulate all the winners and thank everyone for being a part of our journey."
WINNERS LIST
●      BEST FILM: GODAVARI
●      BEST DIRECTOR: NIKHIL MAHAJAN (GODAVARI)
●      BEST ACTOR IN A LEADING ROLE (MALE): PRASAD OAK (DHARMAVEER)
●      BEST ACTOR IN A LEADING ROLE (FEMALE): SAYALI SANJEEV (GOSHTA EKA PAITHANICHI)
●      BEST ACTOR IN A SUPPORTING ROLE (MALE): NANDU MADHAV (Y)
●      BEST ACTOR IN A SUPPORTING ROLE (FEMALE): ANITA DATE (ME VASANTRAO)
●      BEST MUSIC ALBUM: AJAY ATUL (CHANDRAMUKHI)
●      BEST LYRICS: VAIBHAV JOSHI- KAIVALYAGAAN (ME VASANTRAO)
●      BEST PLAYBACK SINGER (MALE): RAHUL DESHPANDE- KAIVALYAGAAN (ME VASANTRAO)
●      BEST PLAYBACK SINGER (FEMALE): AARYA AMBEKAR- BAI GA (CHANDRAMUKHI)
●      BEST STORY: SHANTANU GANESH RODE (GOSHTA EKA PAITHANICHI)
●      BEST SCREENPLAY: NIKHIL MAHAJAN AND PRAJAKT DESHMUKH (GODAVARI)
●      BEST DIALOGUE: PRAVIN TARDE (DHARMAVEER)
●      BEST PRODUCTION DESIGN: ASHOK LOKARE AND A. RUCHA (ME VASANTRAO)
●      BEST CINEMATOGRAPHY: MAHESH LIMAYE (SARSENAPATI HAMBIRRAO)
●      BEST EDITING: JAYANT JATHAR (Y)
●      BEST BACKGROUND SCORE: A V PRAFULLACHANDRA (GODAVARI)
●      BEST SOUND DESIGN: ANMOL BHAVE (ME VASANTRAO)
●      BEST COSTUME DESIGN: SACHIN LOVALEKAR (ME VASANTRAO)
●      BEST CHOREOGRAPHY: DEEPALI VICHARE- CHANDRA (CHANDRAMUKHI)
●      BEST DEBUT DIRECTOR: AJIT WADIKAR (Y) & TRUSHANT INGLE (ZOLLYWOOD)
●      BEST DEBUT (FEMALE): GAURI INGWALE (PANGHRUN) & HRUTA DURGULE (ANANYA)
●      BEST CHILD ARTIST: AARYAN MENGHJI & KHUSHI HAJARE
●      CRITICS' AWARD FOR BEST FILM: ME VASANTRAO (NIPUN DHARMADHIKARI)
●      CRITICS' AWARD FOR BEST ACTOR (MALE): JITENDRA JOSHI (GODAVARI)
●      CRITICS' AWARD FOR BEST ACTOR (FEMALE): SAI TAMHANKAR (PONDICHERRY)
●      LIFETIME ACHIEVEMENT AWARD: DR JABBAR PATEL