Pitch preparation was tough in 12 degrees day and 4 degrees night temperature at Dharamsala: BCCI curator
The pitch in Dharamsala HPCA Cricket Stadium behaved the same throughout the 40 overs in T20 Match between India and Sri Lanka on 26th February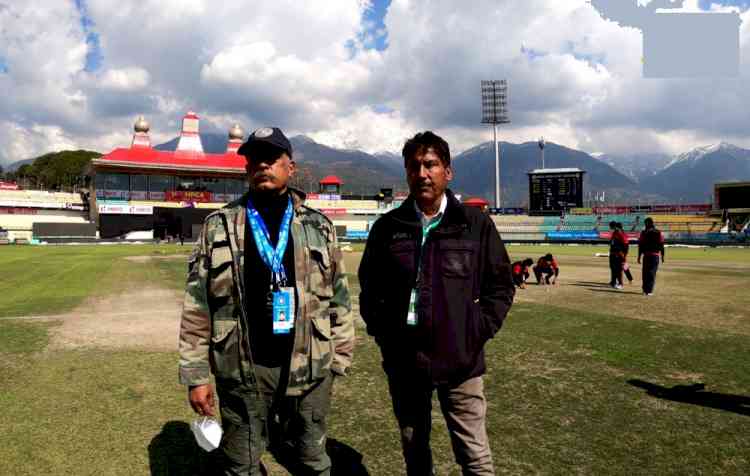 Dharamsala, February 27, 2022: The pitch in Dharamsala HPCA Cricket Stadium behaved the same throughout the 40 overs in T20 Match between India and Sri Lanka on 26th February. Reacting to this, the BCCI curator Sunil Chauhan, said that it was really tough to maintain the pitch and ground in continuous bad weather in this hill station. He added that it was tough in 12 degrees day and 4 degrees night temperature at Dharamsala.
"Three days before the India vs Sri Lanka match, the weather was bad, due to which there was doubt as to how the pitch would be maintained in the match? How will the ground be dried if it rains before the match?"
He said that HPCA has world class technology due to which this wonderful work has been done on this pitch here at Dharamsala.
Sunil Chauhan, believed that the HPCA personnel worked tirelessly and due to which this match has been made successful.
"In yesterday's match, the condition of the pitch was absolutely fine and was behaving normally during 40 overs," he added.
He added that apart from this, working on the outfield was also not easy due to bad weather in Dharamsala. The pitch was also affected due to the temperature hovering around 12 degrees during the day and 4 degrees during the night. But with the continuous hard work of the employees and world class technology, everything has been possible.
"Let me tell you that the Dharamsala Cricket Association has called for three new Super Soppers. Due to which even if it rained, the ground would have dried completely in 30 to 40 minutes.  The players of Team India and Sri Lanka also praised the Dharamsala pitch, He added.
India won the 2nd T20 at Dharamsala on Saturday defeating Sri Lanka by  7 wickets  to win the series.
The third and final T 20 to be played here on Sunday evening.
Himachal Pradesh Cricket Association Stadium, abbreviated as the HPCA Stadium, is a picturesque cricket stadium located in the city of Dharamsala, Kangra district, Himachal Pradesh, India with a capacity of 23,000. The ground has a snow-capped background in the form of the Dauladhar hill-range. The mountains add to the serenity of the venue, which lies at an altitude of 1317 meters above sea level. The town of Dharamsala is best known internationally as the home of the Dalai Lama of Tibet.