PHIC Expo 2021- An exclusive expo on Public Health kicked off at Hitex today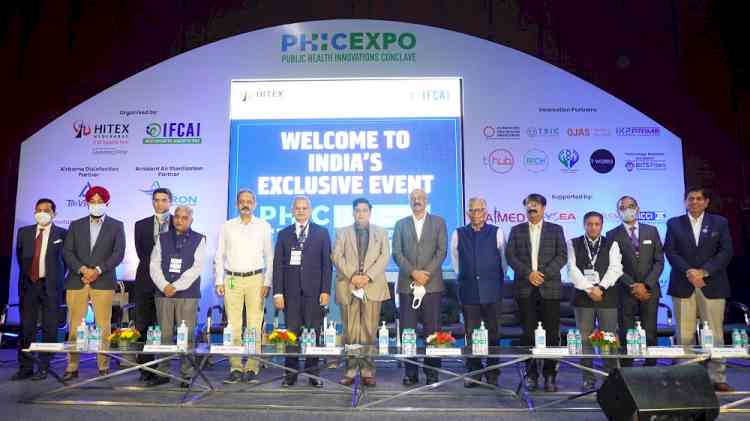 WHO predictions are like our weather predictions: Dr D. Nageshwar Reddy, Chairman and Founder of AIG Hospitals
 
Hyderabad, November 12, 2021: PHIC (Public Health Innovations Conclave) Expo 2021—an exclusive expo on Public Health kicked off at Hitex on Friday.  It is the second edition of 3day Public Health Innovations Conclave. It will go on till 14th November. The public is welcome to visit. The entry is free. 
 
It is a first of its kind in India, featuring innovation, technology and best practices in public health to deal with "Life after Pandemic". It has 75 stalls. It has many knowledge sharing sessions of varied interest on the subject.  
 
First time WHO representatives are participating and deliberating. 
 
It is organized by Hitext in association with the Infection Control Academy of India (IFCAI).  
 
Hitex has also brought many organizations of repute such as PHFI, IMA, IMA-AMS, TSHA, AiMED, SCSC, HYSEA, TFMC, GHMC, NSIC, DICCI, AIC-CCMB, TSIC, T-Hub, RICH, Aspire BioNEST, OjasMedTechBioNest on a single platform. Tri Vector, Novotel, Airon, SIDBI and others are also supporting the event. 
 
Atal Incubation Centre (AIC-CCMB); Telangana State Innovation Cell (TSIC); T-Hub; Research and Innovation Circle of Hyderabad (RICH) and Aspire BioNEST, OjasMedTechBioNest are supporting the event as the incubation partners 
 
Addressing the gathering Dr. D. Nageshwar Reddy, Chairman & Founder of AIG Hospitals said doctors see death every day. But, what we saw during the pandemic was different. In some cases, entire families were wiped out. 
 
Doctors themselves didn't know how to deal with it. We were frightened. It was like a soldier going to war without weapons. To add to it, WHO predictions were like our weather predictions. AIG hospitals treated 30,000 covid patients in the last two years, he added.  
 
We found from experience that mask and social distance was more important than hand hygiene. Public Health is very important. Make public health accessible and economical, he said. Unlike the earlier speaker, I am optimistic about the future. By next year our lives will come back to normal. Corona may remain but it will become like a common cold. Covid is not a tragedy, but it is a teacher, it taught us many lessons, he said.  
 
Life after a pandemic is still unpredictable, said Dr. Anuj Sharma, Technical Officer, who is a country officer for India. We were making recommendations on a ship under construction we were moving in, he told. 
 
Initially, our recommendations went wrong. But you see WHO doesn't make any recommendations on its own.  We do so based on the  recommendations by the experts. When something is new and evolving chances of errors are there, he said. Antimicrobial Resistance is the new pandemic which is under building now silently and he cautioned about the same. He gave 3Ws and 2Vs for safer living. The 3 Ws include: Wear Mask; Watch Distance and Wash Hands and the 2 Vs are Vaccination and Ventilation.  
 
Dr. Ranga Reddy Burri, President of IFCAI-Infection Control Academy of India said every crisis provides significant learnings and an opportunity. I hope we do not forget and get into old routines and fail to carry these life-changing learnings to our future. COVID19 also provided us with the opportunity to discover new innovative approaches for healthcare delivery to promote accessibility, availability, and affordability of quality care. 
 
Krishna Yedula of SCSC-Society for Cyberabad Security Council termed PHIC-2021 as a congregation of innovative minds. The conclave makes sense for Facilities Management Professionals and HRs working IT offices to give them the confidence to call back their staff to offices. 
 
Dr. K. Shankar, Director of Preventive Medicine, Govt of Telangana said all Govt Hospitals in Telangana are equipped with oxygen pipelines. Vaccines will not protect from the virus but protect from death. By 2022 January, we will have a normal life, he said. 
 
Dr GVS Murthy, Director of the Indian Institute of Public Health revealed that when he was asked to remove mask and speak at the 1st PHIC Conclave last, I was hesitant. Today, I can remove my mask and speak. That is the change from last year to this year. Public Health needs incubation time. Smallpox and Polio took some time to disappear. Covid also needs such time, he said. I am optimistic about life after the pandemic, he said. Indian scientists are gradually hogging the limelight globally. 2% of the global top 500 scientists are Indian and within that 30 are from Hyderabad. Hyderabad has become a go-to place for public health in fighting against the pandemic, he added.  
 
Some of the exhibitors include Tri Vector, Pratham Industries, Air Vitamin, T-Works Foundation, Trivector Biomet, Vishal Surgical Equipment, Ledchip Indus Pvt. Ltd; Alon Scott Industries Ltd and others.  
 
Some of the novel and innovative products showcased include Airon range of products that eliminate viral, bacterial and fungal infections from the air.
 
Hyderabad based Ledchip Indus Pvt. Ltd developed "Raypure harmless "non-UV" Light", which kills bacteria and gives light too. Hyderabad based Centre for Cellular Molecular Biology (CCMB), the premier research organization validated that 95% of the Covid-19 virus is reduced in 60 minutes. According to its innovator, Mr Vijay Gupta, Managing Director of LED chip Indus Pvt. It is the novel Non-UV Disinfection System, proven scientifically. 
 
HydroCleaner is an eco-friendly cleaning and disinfectant solution, is a product from Swiss start-up SymbioSwiss with a joint venture with Forbes Marshall. It an innovative chemical-free disinfectant, eco-friendly surface disinfectant which just uses air, water and electrodes to produce disinfectant solution at much cheaper price than chemicals and environmentally friendly too
 
Clean Shield, a Hyderabad based startup offers one-stop shop solutions for all cleaning needs of commercial and domestic needs.  
 
It has an exclusive innovators corridor. Some of the innovators include a 9th class student K. Madhurima from Zilla Parishad High School from Chandanapur in Ramgiri Mandal in Peddapalli District. This 9th class girl, a daughter of an agricultural labour couple, developed an Anti-Pandemic Air Sterilisation Machine by spending about Rs 1000/-. This prevents the spread of the coronavirus, she says. The made in Village Product purifies the air and also purifies the air around. This is very useful especially in villages as this can be made very reasonably, she said.    
 
Jeevtronics, a startup , showcased a disruptive cardiac innovation called Defibrillator. It is the world's first battery-less dual powered (Hand Cranked and Grid) Defibrillator. In July 2016 in one of the government hospitals in Hyderabad, 16 people died because Defibrillator didn't work because of a power shortage. This has triggered the innovation, says Ashish S. Gawade, Co-founder of the Pune based startup. 
 
Parishodhana Technologies, a Hyderabad based MedTech product company showcased NeoWarm, an instant warm blanket for supporting Hypothermic preemies; StayWarm a product that helps beat cold weather and helps to stay warm up to six hours; BodyWarmer and Hand Warmer keeps warm for 8 hours, Sleeping Bag Warmer that keeps warm for 10 hours; Therm Aid, a packaged heat for pain relief etc.
 
Evelabs displayed DRIPO, a smart infusion monitor, a wireless electronic monitor to measure and display the flow rate in gravity infusion and share the data wirelessly. 
 
Some of the innovations showcased during the three-day expo include: Contactless live patient monitoring; IoT enabled innovative ventilation system; Wearable and portable labour monitoring device; Self-sterilization of lifts; Platform for doctors to identify source & location of seizures; IoT enabled ultra-pure water compact device; India's first FSSAI-approved "Innate Immunity Booster" device; Tele-screening diagnosing system to detect respiratory diseases; Hitech devices for keeping life-saving healthcare products; "Hint App" the first nutrition app in India and others. 
 
The expo features Medical Equipment, Laboratory Technology; Hospital & Surgical Products Digital Health Solutions; Real-time monitoring devices; Infection prevention and control Products; Hygiene and sanitization products; Air Sterilization and Air Purifier Products; Water Treatment and Water Purifier Products; Sewage Treatment Plant(STP) etc and others.  
 
Several knowledge and experience sharing sessions were also held in conjunction with the expo.