PHD Chamber of Commerce in association with FICO organized Seminar 
Discussions held on burning issues, e-invoicing and new return forms under GST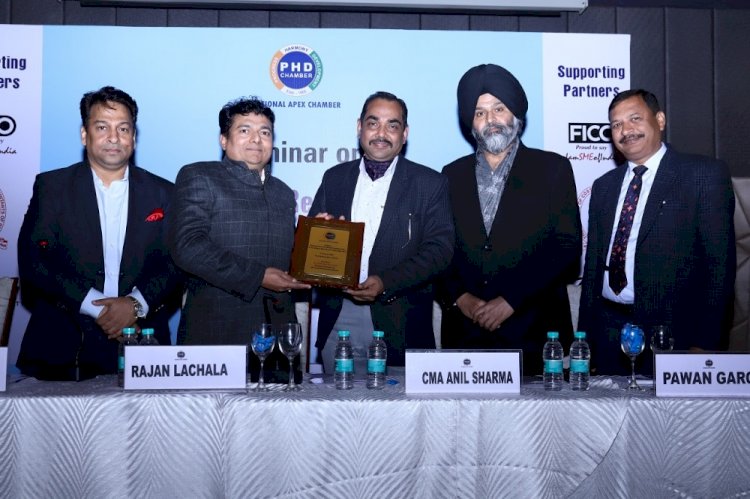 Ludhiana: Addressing a Seminar on Burning Issues and Recent Developments, E-Invoicing & New Return Forms under GST organized by PHD Chamber of Commerce and Industry in association with Federation of Industrial and Commercial Organization (FICO); here today at Ludhiana, Shri Rajan Lachala,   Additional Commissioner, GST Commissionerate Ludhiana said, this year Goods and Services tax collections grew by 15% from Apr –Dec vis a vis last year. He further stated this improvement has come largely because of steps taken to increase compliance and check evasion.
The government has undertaken several measures in the past months to improve collections, he added. He mentioned, Single disbursement authority for refunds is very good step for providing liquidity to tax payers.
 
Shri Pawan Garg, Deputy Excise and Taxation Commissioner (DETC) Ludhiana, Department of Excise and Taxation, Government of Punjab was also present on the occasion and answered the queries of the industry members.
 
While addressing the participants, Shri Bimal Jain, Mentor, Indirect Tax Committee & Executive Director, A2Z TaxCorp LLP said, we expect Government to take concrete measure to make GST - Good and Simple Tax. Taxpayers are facing lots of difficulties in GST pertaining to return filing, frequent changes in law by way of notification and circulars, etc. Which requires immediate attention of Govt to ensure GSTN portal strengthen to take last date pressure of return filing with least of latches on portal and law should have certainty and predictability for Taxpayers for ease of business.
 
While welcoming the participants, Shri Gurmeet Singh Kular, Chairman cum Convener - Ludhiana Zone, Punjab State Chapter, PHD Chamber & Partner, Kular Sons said the introduction of the Goods and Services Tax has been a very noteworthy step in the history of Indian Indirect Tax reforms in India. Despite teething troubles and confusion over the new law, the Government has crossed some crucial milestones with GST, he added.
 
In his address, Shri R S Sachdeva, Mentor, Punjab State Chapter, PHD Chamber & MD, Hitech Group of Companies mentioned a separate cell could be formulated by the government of Punjab for tax collection and Tax department should take care of the technical glitches, cumbersome compliance process, and be cautious in its enforcement actions.
Speaking on the occasion, Advocate Pawan Kumar Pahwa, Chairman, Punjab Taxation Committee,  PHD Chamber & Partner, Panacea Legal Services, Chandigarh stated in order to curb the practices of fake Input Tax Credit (ITC) the Government has come up with the new return system for real time matching of the ITC and is also introducing e-invoicing effective from April 2020. He further stated that PHD Chamber is committed to apprise the trade and industry on the developments under the GST by organizing seminars, conferences and outreach programs to address the issues and concerns of the industry.
 
CMA Anil Sharma, Chairman, Northern India Regional Council (NIRC) of The Institute of Cost Accountants of India talked about new concept of e-invoicing under GST. He mentioned that with this system problem of reconciliation of ITC will be resolved to maximum. Further he informed the house that with this concept lot of time of data feeding and filling of return will be saved and dealers will filling their returns without any hurdle. This system will also help for generating e-way bills". 
 
CA Vishal Garg, Former Chairman, Northern India Regional Council (NIRC) of The Institute of Chartered Accountants of India made comprehensive presentation on New Forms under GST-GST RET -1 (ANE-1 & ANE-2) and discussed issues under GST - GSTR- 9 & 9C.
 
Mr. Rohit Chawla, Key Partner Manager, Tally made detailed presentation on Tally-ERP 9 software and elaborated how it generates GST invoices and transactions as per the GST format.
 
Queries and various issues on GST were discussed at length during the interactive question and answer session.
 
Over 100 industry members and professionals from in and around Ludhiana attended and benefited from the programme.