Petex India, the largest Pet Industry trade show concludes
The expo demanded a Pet Care Policy from the Government on Companion Animals, Responsible Pet Parenting, Socializing Dogs to avoid freak incidents etc and many others.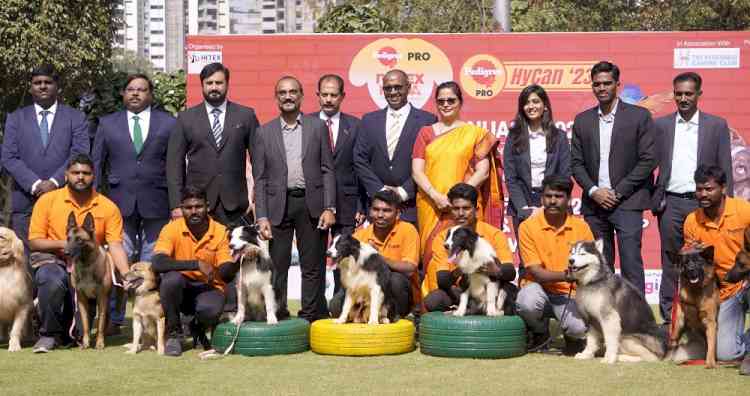 Hyderabad, January 29, 2023: PETEX India, India's largest gathering of Pet Industry Professionals and Pet Parents concluded on Sunday night  at Hitex
 
The 3 day fair drew overwhelming response from the people of twin cities.  Well over 30,000 pet lovers visited the exhibition during the three days put together.
 
The expo raised many pertinent questions demanding a Pet Care Policy from the Government on Companion Animals.  It highlighted  Responsible Pet Parenting, Socializing Dogs to avoid freak incidents that has taken place in the city where a boy died off from the third floor when he tried to escape from a dog when he went to a residence to deliver food.
 
The event also saw many PetPreneurs, DogPreneurs, who have built successful business models in and around the pet industry and brought out their novel, need of the hour products and services. They have also showcased them.
 
The show was full of hi-end products for pets.   As Pet adoption has exploded since the pandemic, more and more people have adopted pets. So also the market is flooded with more pet friendly products and services. It also gave birth to more PetPreneurs, DogPreneurs.  Because of the demand for more pet products, more and more startups are getting into the space with high-end products, which are now going as mainstream products.

No matter what the product is and how costly it is: if it makes our pets happier, we are happy to buy them, said Sonali, one of the pet parents who visited the Petex on Saturday..Some of these products are relatively expensive luxury products.
 
For example, Felica Lounge.  You are welcome to hang out with or without your pet. However, we would prefer your pet over you! says its founder Hema. They have set it up in half acre land, spread over 28000 sft, and was set at an investment of Rs 2.5 crore in Madhapur.  They have a swimming pool for pets. They plan to open a human bar in their facility, so that patrons can enjoy beverages while their pets socialize.  They have acquired a good number of customers in just four months of their launch.  They are planning to expand to other metros  They also organise Dog breed meetups.
 
Paw Kingdom has air-conditioning, one of the biggest pet boarding facilities. Campaign Tails organise dog games.  They organize a campfire with fur babies by their side.  Just Green provides doorstep pet grooming. They have a luxury Pet Spa and Salon.  They have 11 mobile vans and highly trained staff. Pet grooming is emerging as the most sought after profession. Birdies provides a balanced diet for all pet 7 foster birds.
 
Pawsitive Kennels & Pet Resort, which has the biggest dog kennel and pet resort in Hyderabad and spread over 3.5 acre, provides boarding, training, behaviour and pet resort.  It provides agility, Hygiene, pet cafe, pet salon, vet on call, healthy walks, swimming pool, AC and non-AC Kennels.  

Canines Coach is also worth talking about.  It is an institute for professional dog training.  A pet owner can get their dog trained for obedience and behavior modification. They run a basic obedience course, where the dog is made to follow the pet parents commands happily.  The program helps parents to establish a strong bond and communication set up with the dog. Some of the commands taught here are Heel Walk, Stop, Sit, Stay, Stand, Come, Heel Position, Feeding Discipline etc.
 
There are many cloud kitchens that are set up to deliver freshly cooked veg and non-vegetarian food to dogs.  So the pet industry is evolving into a very big industry. Pet insurance was another booming business, adds another startup.  The Hyderabad city is home to some 5000 plus Pet Entrepreneurs, said an industry insider.  
 
The Petex has also witnessed Dog Show, Pet Show, Cat Grooming Competition.  It displayed many exotic and rare birds, fish. Some of the rare breeds of dogs have also taken part.  A DogMarathon was organised where pet parents participated along with their dogs.  A unique Yoga along with puppies too was a big hit..
 
It was organized by Hitex in association with The Hyderabad Canine Club(HCC).  Petex India 2023 will be in support of Mars International India Private Limited, Felica, Plush Puppy, Exotica, Wag, Buddy's Bowl, Bajaj Allianz, Vets on Cloud, Goodboy Kitchen, Odo- Rite, Augie, Commando Kennels and Ammu Kennels
 
It is now estimated that there are over 2 crore adopted dogs in India. And the adoption of cats is catching up fast. It is estimated that 20% of pet parents adopt cats. The reasons for this adoption are cited to be many. Ever increasing size of the middle-income group and their capability to spend, increase in the micronuclear families where pets have become the most sought-after companions and for the same reason due to the loneliness humankind faced due to the restrictions during the pandemic.
 
The way we live has changed and along with us our pets have moved. They are no longer viewed as animals who hang around the backyard. We now get to hear things like "pet parents", "humanization of pets" etc., Consequence of all these developments is the explosion of the pet care industry. With an estimated size of about 8000 to 10,000 crores in India and growing at a pace of 14% annually, India is among the fastest growing pet care industries across the globe, he added
 
Multiple sectors have opened up due to this rapid growth. The pet food industry leads with over 80% of the market and others that are catching up fast are Grooming, Health care, Accessories, Toys, and Cafes. To address these issues, 5 5th edition of Petex has come up with a 360-degree approach to the pet industry. It had successfully brought in representations from all those sectors.