Person accused of raping 8-year-old girl at village Roomi arrested by Ludhiana (Rural) police
On July 18, Punjab State Women Commission chairperson Manisha Gulati had met the rape victim girl child at her village Roomi and had directed the police to arrest the accused at the earliest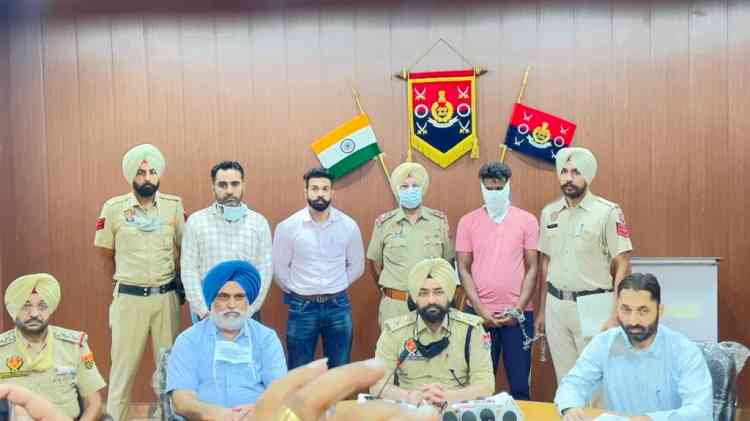 Jagraon (Ludhiana): While addressing the press conference, Charanjit Singh Sohal, IPS, SSP Ludhiana (Rural) informed that a case FIR no. 93 dated 09.07.2021 u/s 376 IPC and 6 POCSO Act, PS Sadar Jagraon was registered on the statement of the mother of the victim who is minor girl of merely 8 years old that her daughter was raped by her neighbour Karamjit Singh @ Kamma (28 years old) s/o Sham Singh r/o Roomi, District Ludhiana.  
The brief facts of the case are that the mother of the victim stated that on 09.07.2021 she was at her home along with her daughter. At about 11:45 am she went to the washroom and when she returned she found that her daughter was not at home. She went round to search her. She went to the house of her neighbour Karamjit Singh @ Kamma where she found that Karamjit Singh @ Kamma was in a room alongwith her minor daughter. Her daughter was weeping and disclosed to her about the wrong deed what Karamjit Singh @ Kamma had committed. The accused Karamjit Singh @ Kamma fled away. On her statement the above said case was registered by SI Kamaldeep Kaur and the medical examination of the minor victim had got conducted from Civil Hospital, Jagraon. 
To arrest the accused a police team of Insp. Jaspal Singh, SHO PS Sadar Jagraon and SI Sharanjit Singh, I/C PP, Chowkiman was constituted under the supervision of Jatinderjit Singh, DSP Jagraon by SSP, Ludhiana (Rural). An application has been moved to the District Legal Authorities to issue compensation to the victim. 
Today, on the secret information, the accused Karamjit Singh @ Kamma has been arrested from the Bus Stand of village, Dholan, who will be presented before the honourable court and his police remand will be requested for further interrogation.  
It is worth mentioning that there is another case FIR no. 56 dated 19.03.2016 u/s 61/1/14 PS Dakha registered against the accused Karamjit Singh @ Kamma, which is under trail.  
It is pertinent to mention that on July 18, Punjab State Women Commission chairperson Manisha Gulati had met the rape victim girl child at her village Roomi and had directed the police to arrest the accused at the earliest.