PCMSD College for Women holds online international conference on Vedic knowledge
The keynote speaker focused on basics of Vedas, how they transformed our lives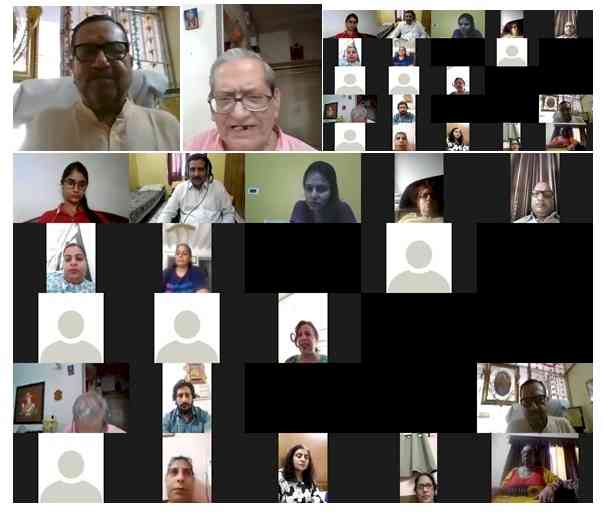 Jalandhar: PCM S.D. College for Women, Jalandhar is organizing Three Day Online International Conference on the topic – 'Vedic Knowledge: The highest contribution of Aryavarta to the world'  from 9th May to 11th May 2020.
On the first day of the Online International Conference, the principal Dr. Kiran Arora welcomed all the dignitaries and gave a brief introduction about the Online International Conference and the institution. The inaugural session was chaired by highly respected Indresh Kumar, who is Akhil Bhartiya Karyakari Sadsaya of Rashtriy Swanyam Sewak Sangh . Indresh Kumar highlighted that vedas or vedic knowledge is eternal and supreme that has taught us to be compassionate, calm, empathetic and have humility as these virtues shall help a nation to fight pandemic like Covid 19. We are soon approaching towards changed world order and all the developed nations are into mess but whole world is looking towards India because through our patience and perseverance and restraint we shall be able to utilize precious resources and utilize the outcome for the upliftment of the economy. The Keynote speaker was read by Dr. Kapil Kapoor. Chairperson, Indian Institute of Advanced Studies, Shimla. He focused on basics of vedas, how they transformed our lives, how sanatam dharma and Hinduism are different and understanding of the brahmani.
In the afternoon, technical session was chaired by Prof. (Dr.) Roop Kishore Shastri, Vice Chancellor, Gurukul Kangri Vishvidyala, Haridwar. He too pinpointed the scope for India to be a world leader. During this session, the first resource person was Dr. Sudhir Jain, Prof, JNU, New Delhi. He emphasized our vedas as a reservoir of knowledge and the 'ultimate way' to lead life. Gayatari Mantra is such a powerful mantra that rejuvenate and refreshes our mind, body and soul (the inner self). India as a nation has shown to the world the importance of the world 'OM' and the power of Yoga and nearly 176 countries follow yoga as a part of their educational curriculum. The other speaker was Dr. Deepti Dharmani, CDL University, Sirsa. Selflessness and Self Discipline is the key to attain self actinalization in life. Vedas and Upnishads help a human being to distinguish between good and bad and understand the intricacies of life.
The third speaker was Mrs. Nirmal Pandhi, OSD, GNDU Constituent College, Kishankot, Gurdaspur. She focused on contribution of Arya Samaj in the present scenario. Havan and Yajna are part of vedic traditions that purify the environment. The last speaker Dr. Jai Singh from The English and Foreign Language University, Hyderabad laid stress on consciousness as a key for self awareness. The first day was concluded by delivering vote of thanks by Dr. Kiran Arora.