PCA Punjab XI beat Rest of Punjab RED by 5 wickets
Trident PCA Cup 2021- Triangular Challenger Series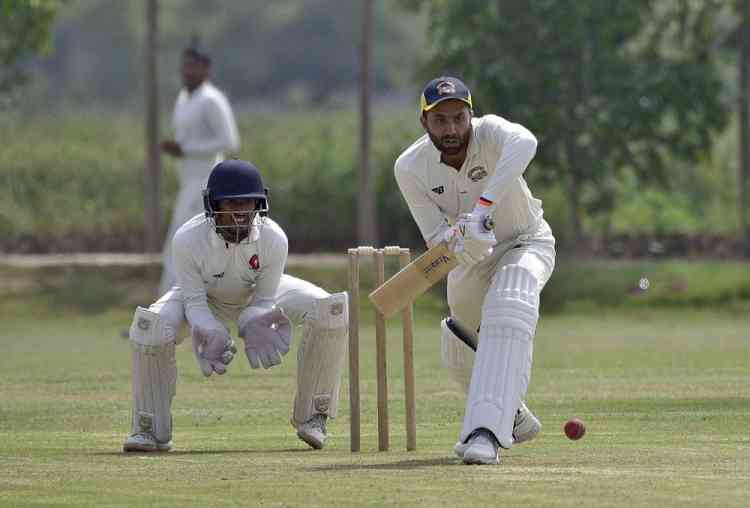 Ludhiana: In the ongoing TRIDENT PCA CUP 2021- Triangular Challenger Series, in the last of the league matches played today PCA Punjab XI took on PCA Rest of Punjab RED at the Hara Cricket stadium at Baddowal, Ludhiana. Due to bad weather and rain early in the morning the match started late at 12:30 pm and the play was reduced to 28 over's.
PCA Punjab XI won the toss and invited Punjab RED to bat first. A well played responsible innings by opener Vishwa Pratap scoring unbeaten 87 runs in 86 balls with 7 fours and 3 sixes, supported well by his team captain Gitansh Khera who came to bat in 12th over as 3rd down and contributed unbeaten 62 runs in 49 balls with help of 5 fours and 2 sixes, which helped the team to reach a respectable score of 182 runs for loss of 3 wickets in the allotted 28 over's.
PCA Punjab XI bowlers Ramandeep, Akul Pandove and Vinay Chaudhary captured 1 wicket each.
Due to persistent bad weather and fading light the match was reduced to 24 over's and the revised target set for PCA Punjab XI was 165 runs in the allotted over's.
Chasing the target PCA Punjab XI's opener Prabjot Singh scored 42 runs in 40 balls with 5 fours and the teams cause was ably supported by Abhinav Sharma's electrifying knock of 56 runs in 25 balls with 4 fours and 4 sixes and Ramandeep Singh's unbeaten 37 runs in 27 balls with 4 fours. PCA Punjab XI achieved the target in 22 over's winning the match by 5 wickets.  
Abhinav Sharma of PCA Punjab XI was declared man of the match.
PCA Punjab XI topped the league by winning all their 4 matches and getting 8 points. Punjab Red stands on the second position with 4 points after winning 2 of their league matches.
Tomorrow 23rd March will be a rest day for the teams and finalists PCA Punjab XI and Rest of Punjab RED will meet again in finals starting from 24th March at PCA Stadium Mohali. Winner to be decided from Best of three final matches and will be played at PCA Stadium Mohali on 24-25-26th March 2021. Third match will only be played if required.
The key takeaways of match played today:
PCA Rest of Punjab Red: 182/3 (28 over's)
Batting: Vishwa Pratap 87, Gitansh Khera 62
PCA Punjab XI (bowling)
Ramandeep (4-0-27-1), Akul Pandove (5-0-39-1), Vinay Chaudhary (6-0-32-1)
PCA Punjab XI:   167/5 (22 over's)
Prabjot Singh 42 runs , Abhinav Sharma 56 runs Ramandeep Singh unbeaten 37 runs.
PCA Rest of Punjab Red: (bowling)
Abhishek Bajaj (4-0-26-2), Deepin Chitkara (5-0-42-1), Prerit (5-0-32-1), Ikjot Singh (4-0-45-1)