PAU YOUNG WRITERS' ASSOCIATION IGNITES PATRIOTISM THROUGH POETRY AND SLOGANS IN COMMEMORATION OF SHAHEED BHAGAT SINGH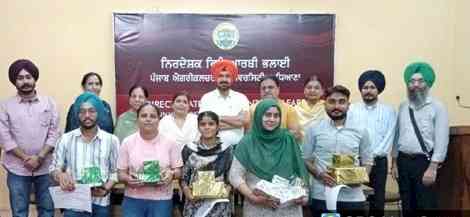 Ludhiana, September 28, 2023: On the occasion of the Birth Anniversary of the Revolutionary Son of Soil, Shaheed Bhagat Singh, the Young Writers' Association at Punjab Agricultural University (PAU), Ludhiana, organized a special tribute in the form of Poetry Recitation and Slogan Writing contests on September 27, at the Shaheed Bhagat Singh Auditorium in the Students Home.
Chief Guest Dr Nirmal Singh Jaura, Director Student Welfare, PAU, inspired the students to learn about and emulate the ideals of the Shaheed-E-Aazam Bhagat Singh, whose vision emphasized not just deep thinking but also the transparent dissemination of knowledge for the greater good of society.
The event was adorned with distinguished figures in Punjabi literature, including Dr. Gurcharan Kaur Kochar, Trelochan Lochi and Jaspreet Kaur 'Amaltaas,' who served as the jury members for the contests. Participants passionately expressed their emotions through poetry, ranging from moments of ecstasy to heart-rending narratives.
Adding to the literary fervour of the event was Gagangeet Singh, a recent alumnus of PAU's College of Basic Sciences and Humanities and an active member of the Young Writers' Association. He presented his debut poetry collection, titled 'Dharti Te Asmaan Vichaale' (Between the Earth and Sky), a group of beautifully crafted self-composed Ghazals. The dignitaries on the dais unveiled and released his book, offering warm encouragement, applause, and blessings.
In the Slogan Writing competition, Ms Rozy from the College of Agriculture secured the first position, followed by Ms Madiha Qadri from the College of Horticulture and Forestry in second place, and Ms. Harsimrat Kaur in third place. In the Poetry Recitation category, Mr Harmanjot Singh from the College of Agriculture, Ms Madiha Qadri from the College of Horticulture and Forestry, and Mr Devinderpal Singh from the College of Agriculture, Ballowal Saunkhri claimed the first and second, and third positions, respectively. In recognition of their efforts, students were given books, mementoes, and certificates.
Dr. Jaswinder Kaur Brar, Associate Director of Culture, PAU, encouraged the students to revive the habit of reading books. She extended her gratitude while appreciating the well-executed efforts of Dr Devinder' Dilroop,' President of the Young Writers' Association, and her team for organizing the event. The enthusiastic audience vowed to carry forward the 'Shaheed' Bhagat Singh legacy with zeal. Bhagat Singh's spirit lives on, inspiring generations to come.