Parent teacher association meet held at KMV
New office bearers appointed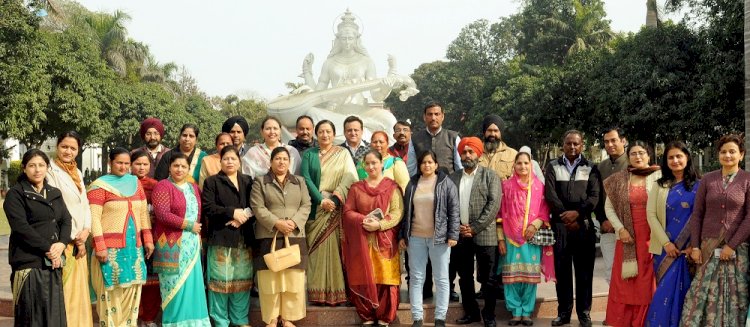 Jalandhar: Kanya Maha Vidyalaya organized Parent Teacher Association Meet in which the members of Executive Committee were appointed and ways to further enhance the well being of the students and the institution were discussed. 
Throwing more light on Parent Teacher Association, Principal Prof. (Dr.) Atima Sharma Dwivedi averred that the main objective of this association is to foster and promote good relationship among the members of teaching staff, students and guardians of the students. It also strives to create in its members a keen interest in the smooth working and the progress of the college and for maintaining discipline and high academic standards. In this meet the parents came forth with some suggestions. They were very appreciative of KMV for having chiselled their daughters' personality and for providing value- based education to the students. Reforms under autonomy have opened up new avenues for the students. These reforms include both academic and examination reforms in which the syllabi of all the courses have been updated to meet the global standards so that the students should be made globally competitive. Various examination reforms have also been introduced under autonomy in which the examination policy of the college has been made more student friendly. More emphasis is laid upon the practical education of the students. 
Around 30 parents of all streams were invited to this meet. Among them Mrs Deep Saluja, Ms Jaswinder Kaur, Ms Rajwinder Kaur, Mr Pawan Kumar, Ms Kuldip Kaur, Mr Bhupinder Singh, Mr Sanjiv Sharma, Mr Umesh Sharma, Mr Baljinder Singh, Mr Pavitra Singh were appointed the executive members. Among teacher office bearers Mr Pardeep Arora was appointed General Secretary, Dr Madhumeet, Joint Secretary, Mrs Rashmi, Treasurer, Ms Prabhdeep, Co-treasurer, Mrs Sadhna Tandon, Dr Neetu Chopra, Mrs Mani & Mrs Amarjot as members. 
Principal Prof. (Dr.) Atima Sharma Dwivedi was appreciative of the office bearers for conducting the meeting immaculately.