Paras Hospitals launches 'Hausla', a dedicated Cancer Care Group to support Cancer patients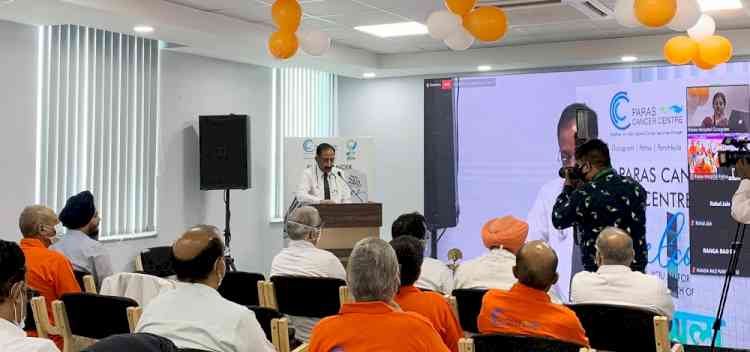 Chandigarh, October 9, 2021: Approximately half a million deaths occur in India from cancer every year. A cancer diagnosis can be devastating, not only for the patient but also for family and friends. Just as cancer affects physical health, it can bring up a wide range of feelings a patient is not used to dealing with. Finding out that one has cancer may trigger depression, anxiety stress and the fear of the unknown. That's why it is important to offer comprehensive support to the patients to boost their mental and emotional strength. To provide cancer patients with much needed social support and boost their morale, Paras Healthcare has launched 'Hausla' a dedicated cancer support group aimed to boost fighting spirit and social support for cancer patients on 9th October 2021.
'Hausla' is more like a movement that aims to propel patients towards a positive and healthy lifestyle, boost their morale and mental strength and provide them with a group of friends to fall back upon to overcome the emotional distress. All cancer units of Paras Healthcare (Gurugram, Patna, Panchkula) are doing it simultaneously at three places with local volunteers and survivors, where NGOs can join too. The cancer group will also include experts from different fields like diet, yoga, stress management, acupuncture, coping with cancer, nurses and entertainment.
"For people diagnosed with cancer, it is not unusual to experience psychological and emotional distress. Whether it is coping with the diagnosis, challenges of the treatment or continued concern about recurrence, the emotions brought about by such experiences are very difficult to handle. Sadly, in India, there are only a handful of initiatives that address this side of the patient's condition, along with medical treatment. 'Hausla' is our effort to try to fill this void, and create a community of people including patients, survivors, doctors, psychologists, dieticians and motivators to improve the treatment mechanisms and help patients stay relaxed and stress-free" said Dr. Dharminder Nagar, MD Paras Healthcare.
'Hausla' will bring together cancer patients from different parts of the city to share their experiences and be a source of strength for each other. This interdependence will encourage them to share their struggles and life events that they would not normally share with their family or friends. It would help them to open up their suppressed emotions and allow a process of emotional catharsis. It is important to understand that cancer isn't just about fighting the disease physically but mentally as well. Sometimes this means looking for the good even in a bad time or trying to be hopeful instead of thinking the worst.
"Cancer is not just a physical illness, it can have a profound psychological impact and people expect to receive both physical and emotional support when they need it. The post-treatment phase of cancer is an especially volatile time for a patient's mental health, yet many fail to receive the required support at this stage. It is important to make sure that patients aren't left to cope with emotional distress on their own. When a person is diagnosed with cancer, he/she may experience shock, anger, or disbelief. There is an intense feeling of sadness, fear, and a sense of loss. Even the most supportive family members and friends cannot understand exactly how it feels unless they have received a cancer diagnosis themselves. This may cause the patient to feel lonely, misunderstood, or isolated. In a support group, members can feel more comfortable sharing feelings and experiences that may be too difficult or too awkward to share with their family and friends. Being part of a group often creates a sense of belonging that helps each person feel more understood, less alone, motivated and inspired. It is indeed a commendable effort from Paras Hospitals Gurgaon to start this cancer support group who will provide the much needed emotional and mental support to cancer patients at all stages of their cancer journey" said Dr. (Brig.) Rajeshwar Singh, Chairman, Paras Cancer Centre.
"One can also discuss practical information in a support group from other survivors. This may include what to expect during treatment, how to manage specific side effects, how to find support services, and how to communicate with health care providers and family members. This provides clarity and confidence to the patients" Dr. (Brig.) Rajeshwar Singh added.
Cancer, no matter the type, is a devastating diagnosis. It can strip the world of its beauty and make patients feel empty and hopeless. But such initiatives like 'Hausla' can reignite the fire inside the patients to beat the disease and come out victorious.