Paragon Senior Secondary School celebrates Annual Function `Aagaaz-2022
Paragon Senior Secondary School, Mohali, held its 37th annual function `Aagaaz-2022'.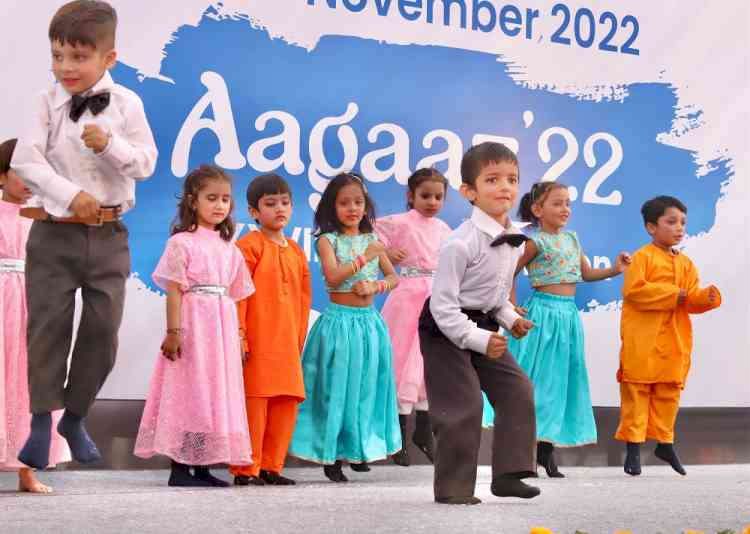 Students of Paragon Senior Secondary School, Mohali perform during their 37th Annual Function Aagaaz'22 at school premises on Saturday.


Mohali, November 26, 2022:  Paragon Senior Secondary School, Sector 71, Mohali, held its 37th annual function 'Aagaaz-2022'.  The annual function witnessed the display of immense talent, with grandeur and gaiety. 
The Chief Guest was Baljinder Singh, District Education Officer, Mohali and the Guest of Honour Sarthi Kaushik, Punjabi Singer and Actor by Paragon Senior Secondary The school's President Kulwant Kaur Shergill and Director Iqbal Singh Shergill welcomed the chief guest and guest of honour. 
The highlight of the event was a scintillating dance performance by the students on 'Corona Victory' as it was the theme of the event – Aagaaz-2022. 
The programme began with the rendition of Ganesh Vandana which was followed by thrilling performances by tiny tots of Paragon Kids- which is the pre-primary  unit of Paragon Senior Secondary School. The foot tapping moves of the little wonders on Western songs set the mood of the audience. The programme included German dance by the students, an English Play 'Mother's Day' by senior students, Qawali, Nukkad-Natak, play on origin of life and many more. The performances were greeted with thunderous applause by the audience. 
A prize distribution was done for the notable achievements of the students in academics and co-curricular events that brought glory to the school.
The final performance of the students of senior wing, Bhangra and Gidha attracted an enthusiastic response from the audience. The entire function was a grand success and was highly applauded . The programme culminated with the vote of thanks by school Principal Mrs Jasmeet Kaur. She appreciated the presence and participation of parents and also expressed her heartfelt gratitude to the VIP guests for being a part of the celebration.